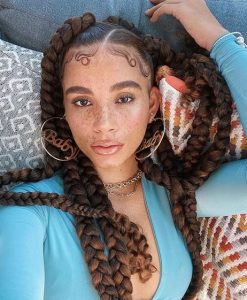 Majestic Braids | Instagram | https://www.instagram.com/p/B_TDN3UhC2_/
Are you ready for the next hottest trend? Goddess braids have become the talk of the town, and it's time to get you some. This hairstyle is a unique take on box braids, only that goddess braids are a lot thicker and bolder. These trendy braids are flattering, feminine and all-around fierce.
Goddess braids are perfect for any woman wanting to keep her hair damage-free whilst looking chic and trendy at the same time. At Darling, we've got the perfect hairpieces for you to rock this exquisite style.
Pick your perfect hairpiece from our Do You Braids and Moja Braids collection to transform your hair. Get ready to be inspired because we're going to show you some stunning ways in which you can rock some Goddess Braids.
Goddess Cornrows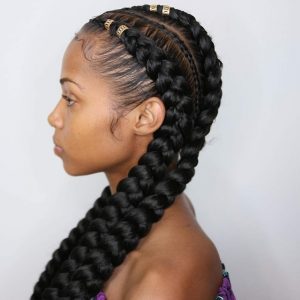 "Simplicity is the key of elegance" – Coco Chanel
There's nothing like a classic hairstyle to complement your minimalistic lifestyle. If you're a lover of simplicity, then straight, black goddess cornrows are the perfect fit. We're loving the balance of the chunky cornrows and micro braids in-between.
Level up your goddess braids by adding gold jewels. It'll bring out your inner sparkle. Get the look with Darling's classic Do You Braid. It's available in an array of ombre colours, and we guarantee that it'll take your braids to the next level.

Crowned Goddess Braids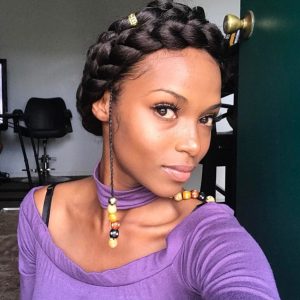 What's a goddess braid hairstyle without a crown? Be sure to try out this classic style when you're wearing your Goddess Braids. It's feminine, pretty and stylish. You can gather all your braids into a crown for a chic look or keep some loose braids down and channel your inner Roman Goddess.
Add in some golden clasps and beads to further highlight your crown. Get the look with our Do You Braid in the ombre shade #1/30.

Blue Black Goddess Braids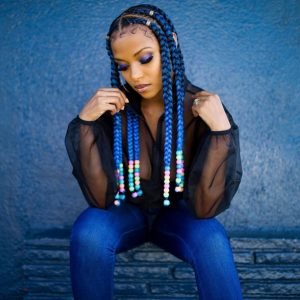 Express your urban style with these edgy goddess braids. We're loving how the electric blue-black shade accentuates the length and thickness of the braid. It's the perfect pop of colour and we're living for it.
With the added charms and beads, it takes the whole look up a notch. Achieve this gorgeous style with our Moja Braid in the shade #Blue/Black.

Burgundy Goddess Braids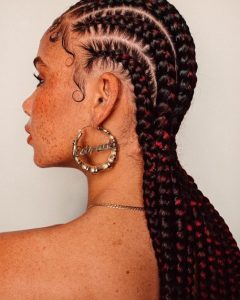 Eye-catching, enticing and exhilarating are the words that come to mind when we describe these chunky goddess braids. It's time to turn up the heat and rock some burgundy goddess braids.
They say that a deep burgundy shade is the symbol of wealth, power and ambition; so if this sounds like you then this shade of goddess braids will be your perfect match. Get this ambitious look with our Do You Braids in the shade #4/#39 ombré.
Bronze Goddess Braids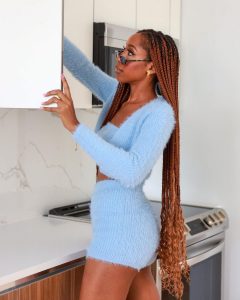 If you're looking for a sleek, stylish and elegant look, then these bronze goddess braids should be your first choice. This gorgeous style is low maintenance, yet high fashion. The fancy curly ends are stunning, and they give the braids an elevated look.
We're also loving the length of the hair. It's breath-taking and it adds to the glam of the hairstyle. Get this stunner with our Moja Braid in the ombre shade #1/35.
Loose Curls Goddess Braids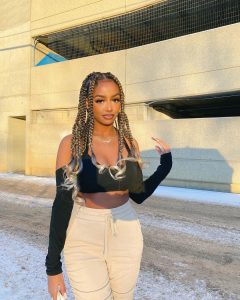 Do you live a fast-paced lifestyle? Are you always on the move? If you answered yes, then we know that you need a hairstyle that's quick, easy and chic. Luckily for you; we've got just the thing.
This modern goddess braid hairstyle is the perfect fit for you. The thicker braids will make your hair easier to maintain, and it'll complement your boss babe lifestyle. We especially love the long loose curls at the end of each braid. It's a soft touch that adds balance to the thick braids.
The look altogether is eye-catching, charming and oh so beautiful. Get this angelic look with our Moja Braid in the ombre shade #1/27.

As you can see, goddess braids are worth all the hype because they are just magnificent. It'll be sure to refresh your style and boost your confidence.
Embrace a fresher side when you rock some fierce goddess braids. Let us know in the comments section which goddess braid matches your style, and if you'll be trying it next.
Be sure to tag us on Facebook and Instagram with your inspired goddess braids look. We can't wait to see your hair transformation with Darling.