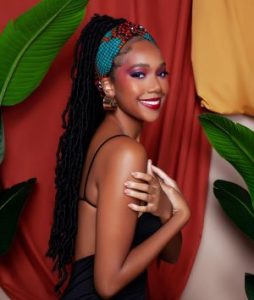 "To me, locs are a symbol of strength and beauty, almost like a lion's mane." – Zendaya
When was the last time you did something for you? With the world moving so fast, we understand that it can be overwhelming. Whilst ensuring that everyone around you is at their best, you tend to forget about checking in with yourself.
At Darling, we know exactly what you need to bounce back into the best version of you. It's time to make time for yourself and indulge in some much-needed self-care, starting with your hair. Dreadlocks have been taking over the scene lately.
Described as being one of the most iconic hairstyles of all time, dreadlocks are eye-catching, easy to maintain and full of attitude. With Darling's dreadlock hair extensions, you can easily achieve the look without the hassle of growing them yourself.
Dreadlocks are considered a go-to protective style because they help the hair retain moisture and they don't put too much pressure on the scalp. If you're looking to switch up your style with a no fuss look, then we've got you covered.
Check out these trendy dreadlock hairstyles, and you can easily achieve them all with Darling's Jozi Light Dred.
The Bedazzled Dreds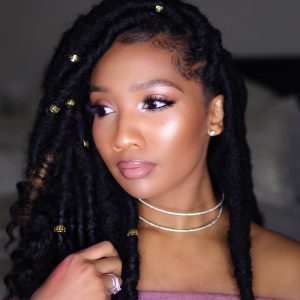 Fierce, and bold, this look will give you the statement look that you're after. The thickness of the dreads adds a more bona fide feel to the look, while paying homage to the classic Rastafarian dreadlocks.
If you live a life that is fast-paced and fun; then this is the ideal look for you. Rocking this dreadlock hairstyle will complement your dynamic lifestyle and give you the confidence to take control of every day.
Add in some hair accessories to your dreadlock style. Go for gold clasps to brighten up your gorgeous look. It'll be sure to give you a flawless finish.
The Heroic Long Long And Flowy Dreadlocks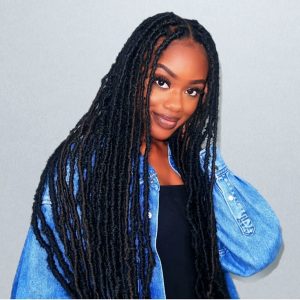 Bold, black and deep-rooted, these natural dreadlocks will bring out your inner diva. We're loving how the dark tones of the locs give the look an edgy feel. So, if you're looking to embrace a bolder side of you, then this look should be your next go-to.
With its long defined natural-looking curls, these faux locs are practical and versatile. With this hairstyle, you can achieve a fun and playful look or even a more sophisticated style.
Whichever way you choose to wear it, we assure you that you will look glamorous. Stay grounded and true to yourself with this classic dreadlock hairstyle.
The Ultimate High Ponytail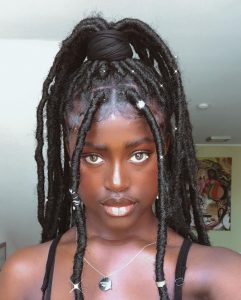 Become the best version of yourself with this majestic style. Elegant, chic and graceful, this bohemian dreadlock hairstyle will leave you feeling like you're on cloud nine. Its earthy tones and textures give the look a natural feel.
The added jewel clasps complement the relaxed nature of the hairstyle. For an even more elevated look, opt for a high ponytail with two dreadlocks falling along the sides of your face. Not only does this style highlight the dreds, but it also frames the face and adds a soft glow to your skin.
The Classic High Bun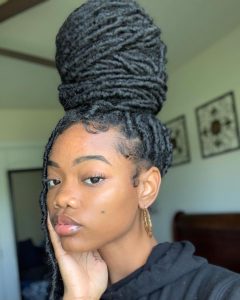 There's nothing more graceful than a high bun dred hairstyle. Nestling on the crown of your head, this style is effortless, stylish and elegant. This look will be sure to add to your laid-back personality and show off the best side of you.
Opt for wrapping the ponytail of your bun with more dreds to give it a natural feel. Let a dred (or two) fall along the side of your face to give you a gentle glow.
Side Swooped Dreadlocks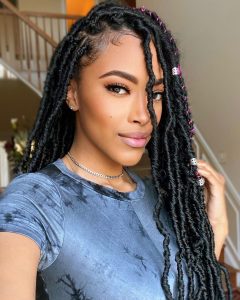 Bring out your inner diva with these gorgeous long locs. This side-swooped hairstyle will leave you feeling like royalty wherever you go. The look is eye-catching, alluring and all-around beautiful. We love how the dreads are accessorised with silver clasps and metallic strings. It really accentuates the look.
With so many stunning dreadlock hairstyles to choose from, we hope we've inspired you to embrace a new look. Remember, making time for yourself is important and self-care is a part of maintaining a healthy and balanced lifestyle.
That being said, we hope that you're able to slow down, relax and make time to bring out the best version of you. Let us know in the comments which dreadlock hairstyle you loved the most, and which one you'll be trying next.
Show us your transformation on Facebook and Instagram by tagging us in your self-care selfie. We can't wait to see the best version of you yet!