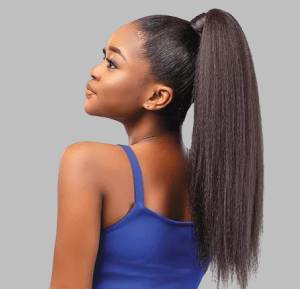 A great ponytail is always considered an effective hairstyle. Over the years, we have seen many celebs resorting to a sleek ponytail hairstyle and rocking the red carpet. Wish for a sleek ponytail, but can't tame your afro? Simply use hair extensions! Keep scrolling for a sleek ponytail tutorial with the best hair extension you can use for it.
Step 1.
Gently wash your natural 'fro with a clarifying shampoo and detangle it with a wide-toothed comb while your hair is damp. Apply an ample amount of moisturiser or a leave-in conditioner before installing the hair extensions. This will make sure your natural hair remains rejuvenated and nourished.
Step 2.
Start the process by creating a small ponytail at the crown of your head. This little ponytail will help you secure a base for installing hair extensions.
Step 3.
Take the luscious and smooth Darling Daniella Weave and start installing it around the ponytail. We suggest you install the weave as close to the hair elastic as possible. The tighter your extensions are around the elastic, the more comfortable you will feel.
Step 4.
For extra thickness, you can use one more pack of Darling Daniella Weave and attach them into the previous pack of extensions that are already installed around your natural hair.
Step 5.
Secure the ponytail with a hair tie and use a hair gel to smooth away any flyaways. To finish the look, take a thick hair strand and wrap it around the base of your ponytail. This will not only hide the elastic, but also give you a sleek and polished ponytail hairstyle.
There you go; your unique ponytail with the best hair extensions is ready to roll! Try this hairstyle and tell us what you think about it! Still confused about the right hair extensions for your hair type? Solve your doubt now with How To Find The Right Extension For Afro Hair