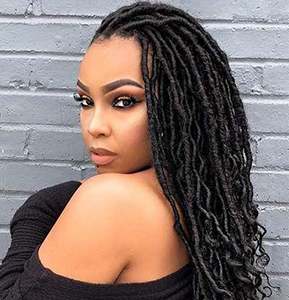 Are you ready to bring out your inner Goddess with your next best hairstyle? Then get ready to whip your hair back and forth with the new gorgeous curly Goddess locs from Darling.
Have all eyes on you when you walk into the room because this trendy hairstyle is just breathtaking.
We've got some grand ideas on the different types of ways that you can rock this hairdo, so keep on reading because it's time to loc in this glamorous hairstyle and embrace your goddess-like beauty.
Crowned in Goddess Curls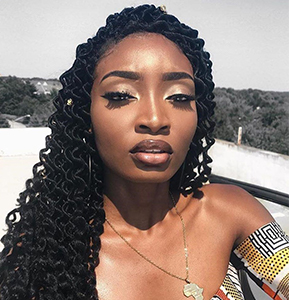 This season is all about locks with curly ends. Stand out like royalty when you show up and show out in these luscious jet black soft locs.
These hair extensions are a beautiful blend of curls and locks, giving you an effortless boho look. A woman who rocks this hairstyle leads a lifestyle of knowing how to get what she wants and has an absolute go-getter personality.
Look and feel like you're one in a million, with these glossy and well-textured goddess locs.
If this is the perfect hairdo for you then get this charming look with our Goddess Locs in shade #1, a striking jet black. You'll be parading in your goddess locs like a true queen.
Goddess Approved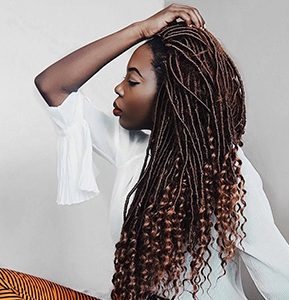 Capture attention when you make an appearance in these foxy and drop-dead gorgeous goddess locs. With your deep roots and spiralling curls; it's your time to shine, so captivate and dazzle.
This natural bronze hair colour brings about a touch of elegance and sophistication. They take on a new and creative outlook on curly hair extensions and we're loving it.
Flaunt this lavish look with our Goddess Locs in the shade #4, a sensational chocolate brown colour made to impress the gods.
Daring Goddess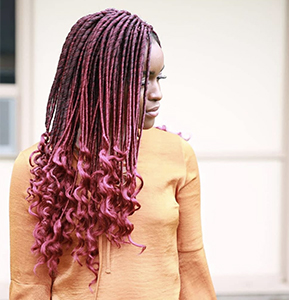 Ignite your inner passion with this bold maroon and black goddess locs hairstyle. With this daring colour combination, you'll come across as being fierce and fearless.
The tones of black coiled in with the shades of maroon add mystery, while the glorious drop-down maroon curls give the look an adventurous twist. Be ready to inspire the crowd when you glow in this charismatic hairstyle.
Get the look now with our Goddess Locs in the colour blend #1/#39. This electrifying black and maroon colour will be sure to add a sense of thrill to your everyday life.
Honey Goddess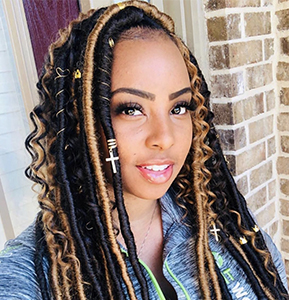 Gold, a colour that represents divinity, power, brilliance and knowledge. Black, a colour that represents self-control, discipline, independence and strong will.
All of this encompasses the true meaning of a goddess. These plush goddess locs are so breath-taking. Mix it up with curly hairpieces to elevate your look.
From the calmness of the soft, loose curls, to the edginess of the thickened locs – it truly signifies both youthfulness and maturity at the same time.
These two-colour blends make a perfect match for someone who wants to add a sense of finesse and poise to their appearance.
For an extra lavish look, add in some hair accessories like cuffs and strings to elevate your goddess locs hairstyle.
Get this bomb look with our new Goddess Locs in the combination shades of #1/#27, a remarkable black and golden hue that'll take you by storm.
We've given you hairstyles that match a royal, foxy, daring and poise personalities, now it's time to choose which hairstyle will suit your main characteristic the best.
With these four splendid colours and styles to choose from, you'll surely be on-trend, no matter which hairstyle you rock. From dark and luscious soft curls to bright and dazzling drop curls, your goddess locs will be sure to keep you on fleek.
Comment below and tell us which hairstyle and hair colour you'll be storming into the crowd with next, and don't forget to show us by tagging us on Facebook or Instagram. Light up the world with your amazing Goddess Locs and #FindYourBeautiful.