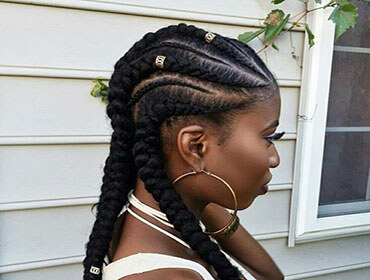 Many African women love the simplicity and versatility of goddess braids. From a formal affair to a family reunion, these braids work well for every occasion. If you are looking for a beautiful way to style your hair, this goddess braid hairstyle is an excellent option.
Goddess Braids Coiled Spiral Hairstyle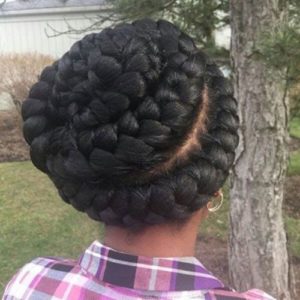 Use a wide-toothed comb and remove all the knots/ tangles.

Plan your partitions and divide your Darling Senegalese Twist with a rat-tail comb. Apart from the section you are braiding first, clip up the rest with section clips.
Take a small section of Darling Senegalese Twist from the front, divide it into three sections and start braiding.
Hold the strands tightly and add new pieces of hair to the centre strand by picking up new pieces of hair underneath the centre strand and merging it with your braid.
Continue the braiding pattern until you run out of hair to add to the centre strand. Tie an elastic band around the end of the braid to hold it in place. Rub some hair gel between your fingers to sleek down your hair while you are braiding it.
Take another half of your loose hair and follow the same instructions. When you run out of hair to braid, simply take the elastic band off the first braid and wrap both braids around each other.
Create a braided bun with the wrapped braids at the nape of your neck for a beautiful spiral effect. Use bobby pins to hold your coiled spiral bun in place.
This hairstyle is stunningly beautiful and super functional during summers as it keeps all the hair up and away from your face and neck. Try it yourself! Braids can create an endless amount of hairstyles. Check out A Twist Braid Hairstyle That Will Change Your Look and learn this gorgeous hairdo.