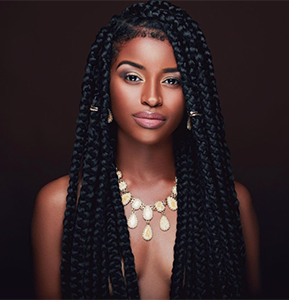 "Braids have been impressionable throughout history."   – Larry Smith
With all of the trendsetting hairstyles in the world, braids will always remain a classic hairdo.
People make hair contact before eye contact so give them something to stare at when you put your new braided hairstyle into focus.
We've picked out three of the most popular braids right now and switched them up to present a new take. From chunky cornrows to asymmetrical rope twists, we have everything and more planned out for you to see.
With our Lula Braid that comes in three remarkable colours – anything is possible. So, whether you want to stick to a classic jet black colour or rock a fashionable mocha shade, we've got you covered.
Chunky Cornrows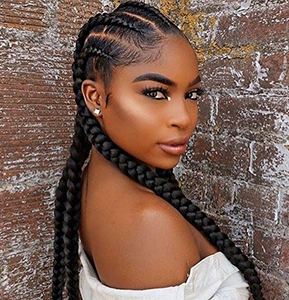 Classy, refined and absolutely timeless – the cornrow braid is one of the most stunning options to choose from.
You won't go wrong by choosing black cornrow braids for your next hairstyle. These quadruple cornrow braids embrace such a youthful and modernistic style of cornrows.
From the thickness of each braid to the luxurious length, it truly encompasses power and control. Get this gorgeous look with our Lula Braids in the charming jet-black shade #1.
Lula braids are the perfect option for cornrows because they're so lightweight and versatile. Get ready to rock these heavenly cornrow braids and attract good vibes only.
Micro Rope Twist Braids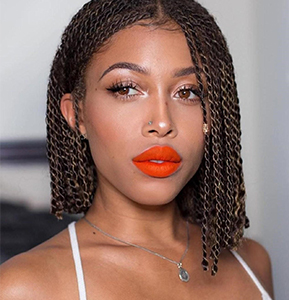 There's always a twist in life, so why not make it one to remember? Level up your hair game with these exquisite mini rope twists.
Chop it like it's hot with shorter rope twist braids and #FindYourBeautiful. With a blissful chocolate shade and a rich moisturised texture – your bad hair days are over.
With fashion colour braids like this, any woman who rocks this hairstyle will be striking in feminine beauty. We also love the unevenness in this asymmetrical bob – it definitely gives it an edgy look.
Fall in love with your hair every day when you try this hairstyle with our eye-catching Lula braids in the shade #4 – a rich infused chocolate brown colour that'll satisfy all of your hair cravings.
Top Knot Box Braid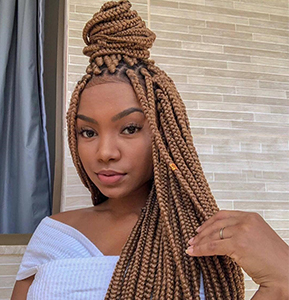 Let your hair do the talking in this outstanding top knot box braid hairdo. They are one of the most popular braid hairstyles to try because they take your look to a whole new level.
Box braids are the perfect 'do for those who are proud, loud and in charge. The towering top knot ties the whole look together and fits in perfectly with the idea of a woman's hair being her crown.
Embrace your inner queen with this gorgeous hairstyle. The soft-toned yet bold mocha colour gives this hairstyle a slick and distinct finish. Any woman rocking these fashionable styles will be sure to conquer the world!
Achieve this chic look with our Lula Braids in the shade # 33,  we guarantee that it'll keep your audience woke wherever you go.
Well now, the braid is in your court and it's time for you to make your decision on which hairstyle you're going for next, and most importantly – which colour.
Whether you opt for chunky or micro braids, Lula braids will always give you the satisfaction of your hair feeling lightweight and beautiful.
Comment on which colour is your favourite and show us your next fashion colour braids by tagging us on Facebook or Instagram.
We can't wait to see your creative hairstyles when you Find Your Beautiful.
P.S. Life's too short for boring hair so it's time to go big or go home!