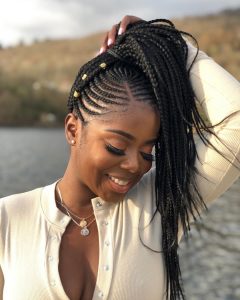 "If at first you don't succeed, fix your ponytail and try again." – Ritika Bhagat
It's always a gorgeous sight when a woman walks into a room with her hair styled in a slick ponytail. It's a style that exudes confidence and power; especially in the workplace.
At Darling we know that transitioning back into the routine of work can be overwhelming, so we've taken it upon ourselves to find the easiest workplace hairstyles for you to rock.
The latest hair trend that's taking the scene is the pondo hairstyle. Starting with an elaborate braid falling down into a long ponytail, it's a hairdo that's not to be missed. This style gives a whole new meaning to beauty, sophistication and creativity.
The pondo hairstyle ranges from braided ponytails, high buns and afro puff ponytails; so, whatever your personal style is, there's always an option for you. On that note; we hope that you're ready to be inspired because we've gathered the perfect pondo hairstyles for you to take full advantage of.
The Classic Pondo Ponytail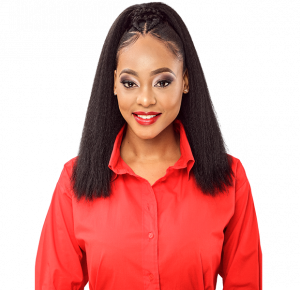 Sophistication never looked so good in this classic pondo hairstyle. Braid your hair on the top, and then allow the rest of it to drop down from a top knot ponytail. This look is so fierce that it demands attention.
We're also loving the boldness of the black hair colour. It accentuates her face and it adds a gorgeous glow to her beautifully bronzed skin. If you're looking for an easy to achieve pondo hairstyle then this is your next go-to. You can get this fresh look by using Darling's Straight Pony in the hair colour #1.
Natty Puffs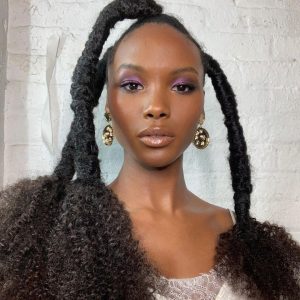 Bring out your inner fashionista with this sensational look. These long ponytails are just breathtaking, and the big afro puffs at the end makes the look even more spectacular.
We're also loving the deep brown shade of this hair colour, it surely adds grace and elegance to the style. If you fancy a pondo hairstyle with some drama, then opt for this look. You can use Darling's Curly Kinky in the shade #4 to recreate this marvelous look.
Crowned In Dreds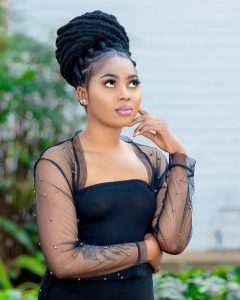 If you're obsessed with a big bun, then opt for this majestic look. This dred pondo hairstyle is both easy on the eye and easy to achieve. It's a no fuss hairdo that'll be sure to have you ready within minutes.
Use some styling gel to sleek down your edges; and you've got a bomb look to compliment your boss babe vibe. This look means business, so if you're ready to take charge and stand out, then this pondo hairstyle is for you. Get this stunning look with Darling's Jozi Lite Dred in the shade #1.

Afro Moment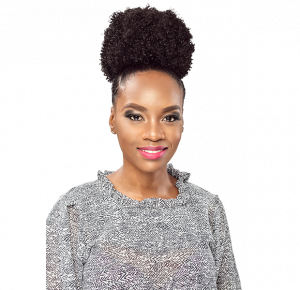 Now here's a supreme look that'll have you feeling like a queen. This afro pondo hairstyle is just what you need to get through a busy schedule. It's a sleek style that's achievable within seconds.
Just slick down your hair with some styling gel, and then grab Darling's Afro Pony Clip In to complete your ravishing look. Not only does this afro make a bold statement, but it also frames her face and gives her a radiant glow.
You can also add in some golden clasps to level up your boss babe look. The best part is that you can get this gorgeous afro pony clip-in style in three shades: #1, #4, and #27. Pick your favourite, and rock your afro with pride.
Top Knot Side Swoop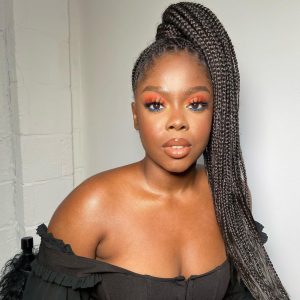 Add some sass to your pondo hairstyle with a top knot side swept ponytail. Show off your long braids with this ravishing look. This gorgeous African ponytail rests calmly on the head whilst highlighting the beautiful features of the face.
This hairstyle is one of the trendiest pondo styles, and we can definitely see why. Everyone loves a good braided hairdo because it's super versatile and easy to maintain.
You can also add some metallic strings to the top knot to make it stand out even more. Get this desirable look with Darling's Naturi Braid in the shade #1.
Well, take it from us; a pondo hairstyle is the way to go. A gorgeous ponytail will always adorn your physique and highlight your best facial features.
We hope that we've inspired you to try this hair trend for yourself. Let us know in the comments which pondo hairstyle you loved the most, and tell us how that style matches your personality.
Be sure to tag us on Instagram and Facebook with your new pondo hairstyle; we can't wait to see. Have fun and get creative with your hair, darling.