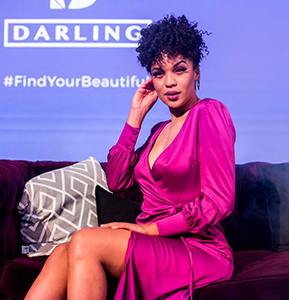 #ICYMI, on the 25th of May, we celebrated our new brand identity with a showstopping media launch. Our brand colour has changed from red to purple, following our sister brands in our other African countries.
Purple represents royalty, power and creativity and therefore, at Darling Hair, we are all this and more. Our range of products speaks to the many different sides of a woman, therefore, we cater to her transitioning needs, her need to stay on trend and most importantly, her unstoppable spirit.
Here's how the evening went.
The launch consisted of thought-provoking panel discussions, explosive performances and a beautiful showcase of Darling's latest hairstyles.
Held in the glamorous Galleria, in the leafy suburbs of Sandton, the event brought together leaders and influencers in hair, beauty and fashion. The conference centre was adorned in white and Aztec design and lit in our powerful purple.
The evening's host was the stunning Ms Cosmo (Hip-Hop producer and DJ) and the co-host was Kgaugelo Mokoka (Darling Marketing and Brand Strategist).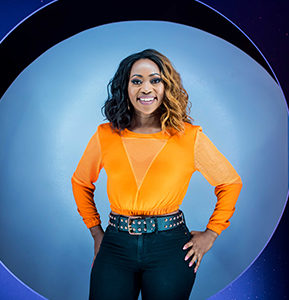 Ms Cosmo is no stranger to the spotlight.
Source: Server
Panel discussion
The hot topic of the night was unpacking what beauty means to different people.
The panel was as follows:
Kgaugelo Mokoka – Marketing and Brand Strategist, Darling
Kgomotso – Fashion beauty director / Hairstylist & Editorial
Smangel Sibisi – Founder & Salon owner, African Hair
Zama Mthalane – Digital Enthusiast
Uyanda Manana – Advertising and Communication Executive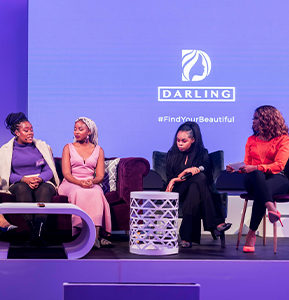 The panel explored how digital and technology, fashion and careers affect hair and beauty.
Source: Server
Digital and Technology
The discussion began with a chat around how digital and technology has affected hair and beauty. To clarify, access to smartphones, laptops and WIFI has affected the narrative around hair.
Women can compare their hair to other women, seek hair inspiration and even purchase hair on-demand. Most importantly, this gives women the freedom to choose.
Fashion
The conversation then shifted to current hairstyles and futuristic hairstyles. The panel took the chance to predict the future of hair, using the current trends as a yardstick.
Past beauty standards
Kgomotso then led the third part of the discussion by diving into how trends are fickle and how women need to look into themselves to rediscover their beauty.
Uyanda then steered the conversation to how in the past, black women looked to Europe for beauty cues or inspiration. Of course, the tide has changed, with Africa being in the centre of beauty standards. In addition, more women are opting to grow natural hair and dreadlocks.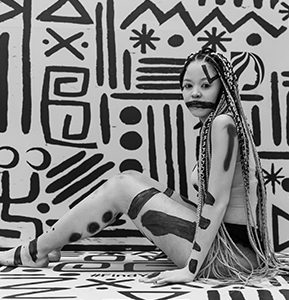 Light skin and straight hair used to be the beauty standard every black woman aspired to.
Source: Server
Current trends
The number or women rocking dreadlocks, natural hair, weaves and wigs has increased. All four of these styles are evolving into more convenient versions of themselves, for example, more women are opting to wear clip ins instead of weaving a hairpiece into their hair. Current fashion trends such as leopard skin clothing were also touched on.
Haircare
The panellists then had an educational discussion around how black women can protect their hair in winter with Darling's products. Remedies and solutions were provided to empower women to put hair care into their own hands.
Hair at work
The discussion then took an interesting turn when the panellists discussed which hairstyles are deemed professional for work. For Example, existing myths around hairstyles in the workplace was also covered.
At the end of the discussion, the panel opened up the floor questions and comments.
Performances
The night wouldn't have been complete without entertainment. The energetic Moonchild Sanelly took things to another level with her incredible performance. Her dance moves had everyone entranced and whipping out their phones to capture the moment.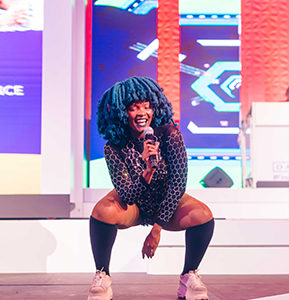 Moonchild Sanelly got the party started.
Source: Server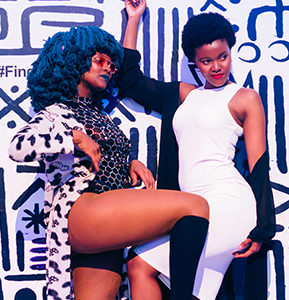 Yaasss queens.
Source: Server
Special guests
Darling was thrilled with the presence of the beauty influencers who were part of the #FindYourBeautiful campaign.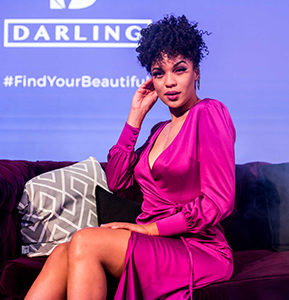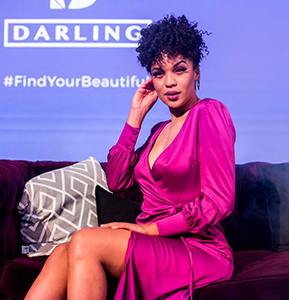 Roseanna Hall looked right at home on the purple couch.
Source: Server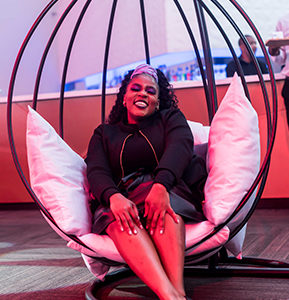 The bubbly Mirriam Maulana was also there to share the night with Darling.
Source: Server
Hair showcase
The night wouldn't be complete without showing off Darling's latest hairstyles. They were futuristic, larger-than-life and unforgettable.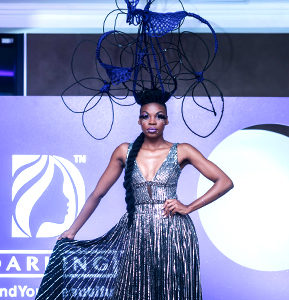 Big hair don't care.
Source: Server
Themed backdrops
If you still wanted more after the panel discussions, performances and hair showcase, as a guest you were welcome to take photos on the Darling-themed backdrops throughout the night. The guests took the liberty to take snaps to share on their social media platforms.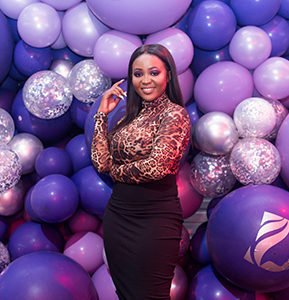 She did it for the 'Gram.
Source: Server
Did we give you some serious #FOMO? It's ok, it was an unforgettable night. So head over to our Instagram and Facebook page for even more videos and pics.