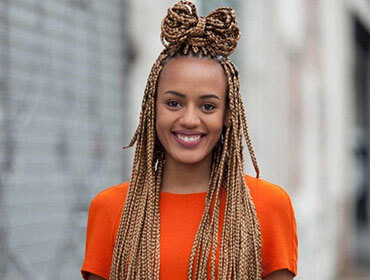 Hey Ladies! Haven't we all been in that place where it's time to go out but there's nothing that works with our hair? When you have braids, hairstyles are either crazy complicated or super basic. But what about when you just need something quick, cute, and easy for that unexpected lunch date with bae? Or when you just want a casual day to just be a little more stylish?
Never fear! We've got your back and we're about to show you a quick and easy way to get the perfect "not too complicated but still fashionable" braided bun!
Step One:
Take all your hair and tie it up into a high pony you can bring over your face.
Step Two:
Bring your ponytail to the front and then separate it into two halves. Begin wrapping all your hair in one direction, forming that bodacious bun!
Step Three:
Secure your hair down with a couple of bobby pins and don't be afraid if it's just a little messy!
Pair this braids style with an elegant top and live your best street chic life!