"Style is a way to say who you are without having to speak." – Rachel Zoe. Who doesn't love a trending grey hair moment? We sure do. It seems like our feeds are being flooded with new hair trends every other day, but few are as gorgeous as grey weaves. This weave is a hairstyle that's edgy yet classic and beautifully complements any skin tone.
With Darling's premium Empress Collection, you're in luck. All our Empress styles are now available in grey. These high-quality blended weaves deliver a unique human hair-like sheen, stunning look and soft feel. It's a collection that offers curls, bounce, sleek looks and even waves – all in shades of grey. From the Peruvian Wave to the classic Brazilian Silky Straight and even our Malaysian Deep Curl – Darling gives you more ways to level up your hair colour and hairstyle like the true empress that you are.
Before we get into these trending styles that will have you looking effortlessly stunning – let's comb through what makes the Darling Empress Collection a must-have for this season?
Our range has a human-hair feel that leaves your hairstyles feeling silky-soft and effortlessly manageable.
The Brazilian Silky Straight now comes with a closure, so you can finish off your look and add a whole lot of volume.
Our products are heat-friendly, re-styleable and tangle-free.
Darling's range offers you premium quality hair blends at an affordable price.
The Empress collection is now taking over in shades of glorious grey.
Now that we've convinced you to try our high-quality Empress Collection –  scroll on for four ways that you can join in on the grey trend takeover with Darling.
All grey all day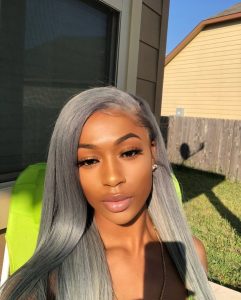 There's never a dull moment with Darling's Brazilian Silky Straight weave. Now available in grey – it's no surprise that Darling's classic long and sleek look stays trending all year round. Add a touch of natural volume to your grey weave using Darling's weave closures. They now come in every pack of our Empress Brazilian Silky Straight.
Let there be grey
One reason we're seriously crushing on this year's grey trend is because of how beautifully it complements darker skin tones. Achieve a similar look to this one with Darling's Mongolian Wave. Style your grey weave into a shoulder-length bob that perfectly frames your face and add a touch of colour contrast by pairing your weave colour with an all-black (all chic) outfit.
Waves of grey
What's our secret to looking cool without trying? Grey weaves. Darling's Peruvian Weave gives you carefree and effortless waves that have become a protective styling staple. Our premium blend hair weave has always kept you slaying your hairstyles in shades #1 and #4. And what's better? It's now available in glorious grey. Darling's Peruvian Wave comes in 3 sizes; 14 inches, 16 in and 18 inches. Giving you more ways to style, slay and confidently rock those waves of grey.
Grey-haired and daring, Darling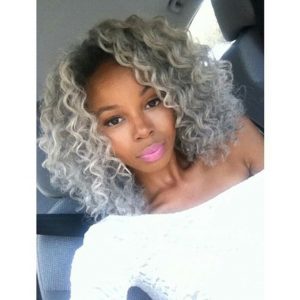 Not sure what to do with your hair? Rock show-stopping tresses with a grey curly spin using Darling's Malaysian Deep Curl. This striking grey weave will no doubt become your signature style. There's a combination of freshness and elegance to Deep Curl. And it's no wonder you'll never dread going grey with this trend.
Will you slay in grey all day? Does Darling's carefree Peruvian Wave give you life?  Or are you daring to put a grey spin on your Malaysian Deep Curl? Whatever you decide, we can't wait to see how you elegantly step out in all things grey, gorgeous and glorious. Head on over to our Instagram and Facebook pages, give us a like, share your photos and don't forget to tag us too.
Visit our website to see more trending hairstyles with the highest quality hair at the best affordable price.