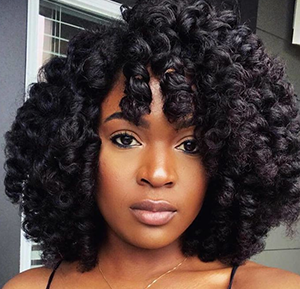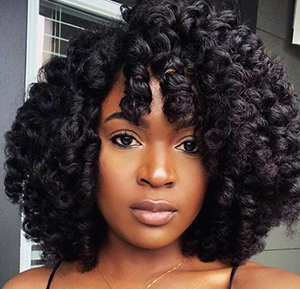 There's no need to wait for a perfect time to let that voluminous bouncy curly weave out. Whether it's a bright summer's day at the beach or a cosy winter night around the campfire, any occasion can be an opportunity to show off your hair.
Darling's Diva Curl weave lets you be the glamorous queen you are. Not sure which style to go for? Here are three trending short hairstyles to help you #FindYourBeautiful.
Say hello to the new DIVA CURL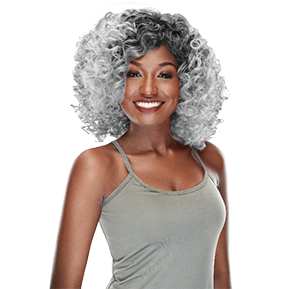 We've added a curly look to our premium collection, the Diva Curl. Bring out your inner diva with this gorgeous afro-textured weave.
Its coily tight curls are so versatile you can play around with them to find your perfect style. You can choose to keep them long and wavy or opt for a playful short, curly weave and bouncy look.
Keep the fun going by adding in a little colour to highlight your natural-looking curls. Choose a two-toned maroon and black or a white and black ombre.
Do you know what we love most about the Diva Curl? It makes an awesome wig! Flaunt this beautiful weave in a sophisticated beehive look or simply add braids to make your final look gorgeous.
Are you in the mood for a more daring look? Then go the short hair route. 2019 Has been the year of short hairdos so jump on this trend. Here are three of the sassiest and trendy short haircuts that put the Diva in Diva Curl.
Angled Bob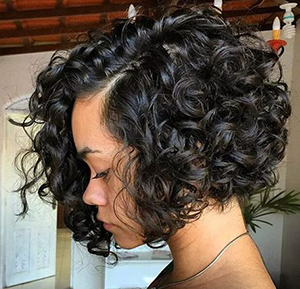 The angled bob is #HairGoals. This hairstyle is cut short at the back and a bit longer in the front. It's also got lots of beautiful layers.
This hairstyle has a great way of highlighting your facial features, especially your cheekbones. Plus it keeps the hair off your neck and shoulders. Now you can show off your beautiful neck and collar bones.
Achieve an even edgier look for your angle bob by opting for the Diva curl in a two-toned blend. Experiment with textures, colours and sizes of the curls to make a unique statement.
"A girl should be two things: classy and fabulous" – Coco Chanel
Tousled Lob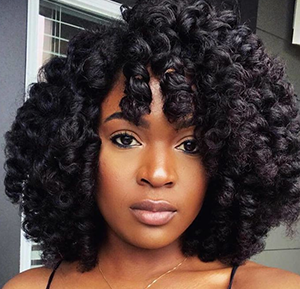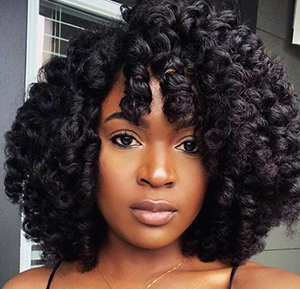 Slightly longer than a normal angled bob, hence the name Lob, this wavy and layered curly weave hairstyle is a breeze for women on the go. It's easy to style so you don't have to spend too much time on your hair.
Ruffle up your bouncy curls for a casual fun day out or set your style for a fancy dinner date. Blunt bangs are a good way to get creative with your hair. Try curling your bangs out for a cool and casual look.
Mohawk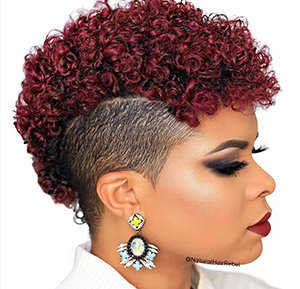 Be super stylish with this Mohawk hairstyle. It is typically known as a style where both sides of the head are shaven, leaving a strip of longer hair in the centre.
Keep up with the latest trends by rocking a curly Mohawk and pairing it with a fade cut instead of a full shave. The bold and maroon Diva Curl is the perfect weave to achieve this look.
Pixie cut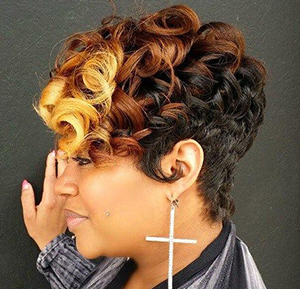 Short and cute, the Pixie Cut is known for being a short simple hairstyle that is usually straight. Why settle for the standard look when you can spice it up by going for curls.
The messy Pixie Cut is the latest trend amongst so many women. Its short layers will give your curls all the volume it needs without the extra effort. The addition of short bangs not only gives your face dimension but also adds a little drama to your final look.
The light and bouncy Diva Curl is versatile enough to adapt to any of these four hot trends whilst adding drama, character, style and volume to your final look. After all, what is a Diva without drama?
Don't want to fall behind? Stay informed and ahead of the trend by connecting with us on Facebook or Instagram.
LIKE, FOLLOW OR SUBSCRIBE. It's as simple as that!
Keen on showing us your unique and bold style? Just follow these 3 easy steps:
Upload your picture on Instagram
Tag @darlingsouthafrica
Use #FindYourBeautiful
Which trend would bring out the Diva in you?
Angled bob
Tousled bob
Mohawk
Pixie cut