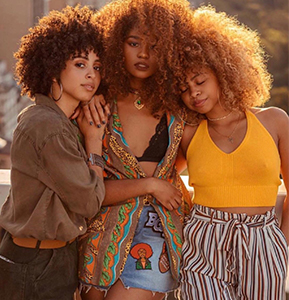 "When your hair is on point, you can handle anything" – Lyndsay Maderis There's just something about curly weaves that adds in a spark of magic into your life. Their unique natural look makes them stand out above any other hairstyle.
Curls command the attention of an audience, they accentuate a woman's natural look and shows off her power. With that being said, it's time to claim your power when you rock our new stunning Miss Ross Weaves.
We've got three exciting different ways to wear your short, tight and springy curls as well as a range of colours to choose from.
So whether you're going for a classic black or a retro maroon shade, we've got you covered.
Turn up your hair volume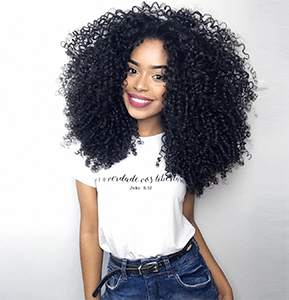 Curls are meant to be loud, so get ready to have your curly hair speak volumes with our Miss Ross Weaves. Dark, sensual and vigorous – these curls will never let you have a dull day.
This springy curly weave will bring out your liveliness and energy throughout your day. It's a statement hairdo that'll make you feel like a curl boss.
We love the tightness and springiness of these carefully textured curls. The wig brings on a whole new mood to curly hair. The curls are long and voluminous adding in more definition and charm to the look.
Find your beautiful in these blissful curls with our Miss Ross Weave in shade #1. These gorgeous curls will have you springing into action to try them, so what are you waiting for?
Upper Cuts and Bold Colours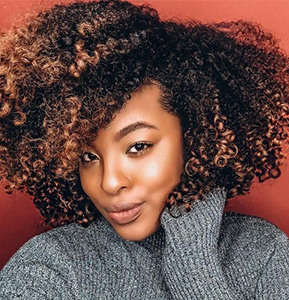 The shorter your hair, the harder they stare – and we're definitely staring at this striking black and copper short weave.
Let your confidence shine through with these uplifting curls. Get ready for this natural and elegant hairstyle to adorn on who you are and make you feel the best you've ever felt.
We love the triangular layers that this curly weave has, it shapes the face beautifully, and softens any look. Shorter layers on curly hair also boost its volume and make it stand out even more.
The eye-catching black and copper tones tie this entire look together and make it look dazzling and inspiring. This natural weave will definitely bring out the glow you've been looking for.
Get the look with our Miss Ross Weave in this vibrant combination shade of #1/#35. It's time to up your hair game – literally. Rock this weave with poise and assurance that you've found your beautiful.
Bloom in Black and Maroon
Bring your style to life with this rich and luxurious curly natural weave. Enriched in a glowing maroon and black shade, you'll be sure to leave an impression wherever you go.
They say: "Big Hair, Big Dreams" – and we feel that this hairstyle highlights that saying. It's time to be curl confident and rock your own world with this trendy weave.
We love the shoulder length and layers in this hairdo. Show off your power and passion with this natural Miss Ross Weave in the bold combination shade of #1/#39. Fashion-forward and on-trend, we assure you that you will slay all day.
Well, we've given you our top picks and you have the options. Get prepared to show off your naturalness with these stunning curly Miss Ross Weave.
Choose your colour of choice and rock your curls with confidence and power. Show off your glamorous curls by tagging us on Instagram and Facebook – we'll be waiting to see.
Remember: If your hair looks good, you can deal with anything – so go out there and conquer the world with your luscious curls!