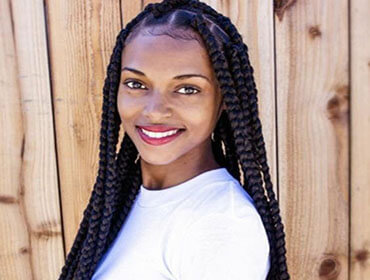 Box braids are not just practical but also a versatile hairstyle! Tie them in a ponytail, keep them flowing loose or wrap it in a bun for an elegant look. Apart from being a great protective style, it's also low maintenance, cute and convenient. We often see braided hair as a bohemian style. This trendy look may seem tricky but it's not! Follow our step-by-step guide to achieve beautiful box braids at home.
1. Prepare Your Hair
Start by washing your hair with a normal shampoo. Since box braids are a protective style, make sure you use a leave-in conditioner to maintain the level of moisture in your natural hair. It will also ensure your hair extensions are attached properly.
2. Section The Hair
After careful detangling, section your attached Darling Kingston into four different parts. Make sure your extensions are in four even and straight squares. Use clips to hold each section in place.
3. Start Braiding
Take a small amount of hair from the first section, divide it into three strands and start braiding. Be careful not to braid it too tightly, it might damage your extensions and cause breakage. Continue to braid the entire section from the root to the tip. Secure it with a small elastic to keep your braid from coming out.
4. Repeat The Process
Move to the second section and repeat the same procedure. Create uniform braids; make sure your braids are even and very straight. The thinner they are, the better the result! After braiding all the sections, you should have about 100 braids. Remember, creating perfect braids might take hours but the result is fabulous.
5. Polish Your Look
Once you have finished braiding, dip the ends of your braids in hot water to seal the tips. You can also press a hot towel all over your head to tame flyaways and making each braid look perfectly polished. Use scissors to trim the ends if necessary.
6. Care And Maintenance
Wear a silk or a satin scarf while you go to sleep or use a satin pillowcase to avoid dryness, breakage, and frizz. Regular pillow covers rub against your hair making them rough faster than expected. Hence, avoid using them.
Make sure you shampoo and moisturize your scalp and clean your braids with a damp cloth.
Your classic box braids are ready! Now that you have mastered your box braids, try A Twist Braid Hairstyle That Will Change Your Look.
Follow us on Facebook and Instagram.