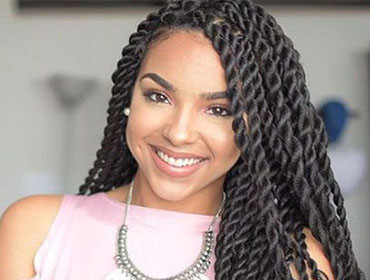 Twist braid hairstyles are great protective styles! They provide an amazing look and do not come out easily. Apart from taking less time to prep, you can sport this style for any occasion. This hairstyle will work well on natural hair as well as hair extensions. Follow this step-by-step guide for a glam hairstyle.
1. Part Your Hair
Part your Super Star from the middle (from your hairline to the nape of the neck) with a thin mouth comb. It will give you two equally sectioned halves. Make sure you moisturize your natural hair before wearing this protective hairstyle.
2. Further Sectioning & Parting
Start with any side of the parting; begin working with a small section at the hairline. Now divide the small section of hair at the hairline into two parts and start twisting it around each other. As you twist the hair, gently incorporate hair from the parted section into the twist as you work it. Make sure you maintain the right tension, pulling too tight might damage your hair follicles.
3. Secure The Twist
You will reach a point where the twist is no longer attached to your scalp. Keep twisting until you reach the end.
4. Secure The Ends
Repeat the twists over your entire head by using the same technique then braid the ends and seal with hot water.
5. Tie It Up
Don't feel like sporting just twists braids? You can easily pull it back into a ponytail. This is a good option for women who want a classy protective hairstyle without sporting too many accessories. That's the versatility one gets from twist braid styles.
Now that you are the master at twist braids! Check out the Best Crochet Braids Flaunted By Your Favourite Celebrities!