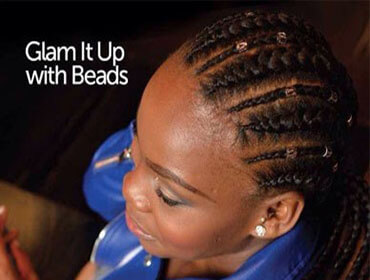 Cornrows are the need of the hour! This fresh style can be created in different styles and we can't get enough of them! Once you have got the basics right, you are in for a great surprise. Take a look at all the steps you need to know to make those trendy cornrows.
1. Cleansing And Detangling
Keep your hair healthy and moisturized. Ensure your scalp and hair are clean to maintain overall hair health. Wash your natural hair with a cleansing shampoo and apply a leave-in conditioner to lock the moisture. This will also help in keeping your extensions properly attached.
While your hair is damp, detangle it with a wide-toothed comb. Braiding will be easier if your hair is tangle-free. Make sure to be gentle while combing as pulling hard can lead to damage to your hair.
2. Sectioning And Parting
Here comes the tricky part. Divide your Darling Superstar into multiple rows. Further, part those rows into multiple sections with a rat-tail comb. More the sections, thinner the cornrows! Secure each section in place with bobby pins. Pick up a small section, separate it into three strands and start braiding.
3. Add A Few Strands
Once you start braiding, keep adding a few strands of hair from underneath to each braid stitch. Keep adding strands until the braid is off the scalp. Finish the braid normally until the end and secure it with a hairband. Continue the same braiding technique for each row on your head.
4. Detangle While Braiding
Whether you are creating cornrows with extensions or with natural hair, you might need to detangle your hair as you work your way down the sections. Simply and gently, pull your fingers through the hair to detangle it so that the braids will continue to be neat and uniform.
5. Secure The Ends
Dip the ends in hot water to seal them. You can also curl the ends around your finger to prevent it from unraveling. You can also add a ponytail extension or an afro puff extension for a different look.
Master this technique and create perfect cornrows for a chic and trendy look. Never stop experimenting with braided hairstyles! Take a look at the Easiest Ways To Make Box Braids and try them yourself!