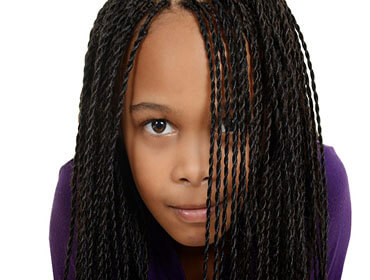 Well, we don't just focus on adults! This article is a rich source of information for all our beautiful young girls. Parents usually have this dilemma, if whether their kids should wear hair extensions or not. What we have come to realise is that there is no definite answer; there is no right or wrong. Keep scrolling for an ultimate guide to extensions for kids.
1. Quality The Key
Using hair extensions on kids is not a wrong practice, provided it is done with utmost care and precision. Cheaper quality extensions become too heavy on their hairline, leading to hair loss and breakage. Use good quality hair extensions like Yaki Braid from the house of Darling. They are lightweight, easy to install, and especially for children.
2. Perfect Age
We cannot stress enough how important this point is! Parents, Do Not Hurry! Using hair extensions for kids from an early age can lead to serious damage. Wait until they are ten or twelve years old. Till then let their natural hair breathe and grow.
3. Protective Hairstyles
A major plus point of children wearing extensions is protective hairstyles! Loose cornrows, twists, ponytails, and braids are some effective options. If a protective hairstyle is installed in their hair with accuracy and precision, it will protect their natural hair successfully. It can also lead to hair growth while keeping pollution and dryness at bay. However, un-install that style after three weeks.
4. Comfort
However convenient or classy hair extensions look on your children, do not make them wear them if they are not comfortable. Make sure you have your child's approval before you create a protective hairstyle on their head. Darling Yaki Braid is your go-to! As it's especially for children and it will provide the utmost comfort.
We know you have so many questions about extensions for kids, Check out At What Age Should Kids Wear Weaves or Hair Extensions? For all the answers!