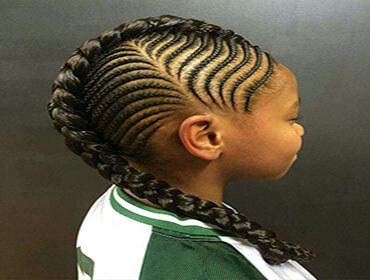 We all love our kids and always want the best for them! Whether kids should wear hair extensions or not has been a lifelong debate. However, we are here to tell you that using hair extensions for kids is absolutely fine! The correct question to ponder upon is at what age should kids wear weaves or hair extensions?
Making kids wear hair extensions is okay but only to a certain extent. So many protective hairstyles are suitable for kids, such as short kinky twists or cornrows, crochet braids, box braids and so much more. All these hairstyles are very common in our culture. Extensions are also helpful in maintaining healthy natural hair and preventing exposure to dryness and pollution.
The appropriate age to truly consider weaves or extensions depends on the child's maturity level and hair health. However, we suggest you wait until your child turns ten or twelve years old before introducing her to protective hairstyles.
No matter how old your child is, if you are considering using hair extensions on her make sure they are of good quality! Darling Yaki Braid is your ultimate ally since they are extremely lightweight, easy to install and gives a natural look.
There are plenty of protective styles that require minimal to no weave/extensions. These include flat twists, two-strand twists, cornrows, and the list goes on. Our recommendation is that if you are installing hair extensions on a young child; try to keep the style lightweight and short or medium length.
What do you all think? What is the right age for kids to wear weaves or hair extensions? Let us know in the comments!
Wish to make the best out of using hair extensions on kids? Have a look at Ways to Maximize Kids Natural Hair Growth with Extensions.