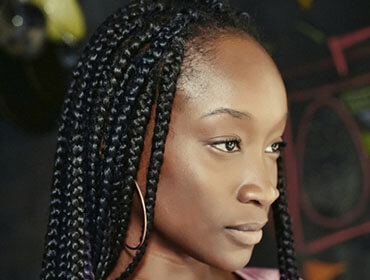 Let's be honest, we've all wanted our cornrows to be healthy, last longer, and most importantly limit as much damage as possible to our beautiful natural hair. We've listed down what we think the secret recipe is to prolong the lifespan of our cornrows.
Firstly, moisturize! We can't emphasize this enough! A dry scalp is a recipe for disaster and will most likely break your natural hair and that's definitely not cute. You want to keep your scalp and hair well moisturized. There are several sprays on the market that'll do the trick!
Wash your hair. We know that sometimes getting in the shower and washing your hair can be a full-on workout! Think of it as your cardio for the day and make a point to wash your hair every 7- 10 days. You want to make sure your braids and scalp are clean.
One of the best ways to help your hair stay in shape and prevent flyaways is to wrap your hair before you sleep. The best option for this would be a silk or satin headscarf that you can pull around your head and hold the style in place while you sleep. If it's too uncomfortable to sleep with your hair wrapped then get yourself a silk or satin pillowcase.
Hopefully, these tips help you get the perfect long-lasting cornrows! However, we don't recommend having your hair in cornrows for longer than 6 weeks. Keeping the style in for longer can result in extremely tangled hair and breakage.
Follow us on Facebook and Instagram.
Image Courtesy: MadameNoire