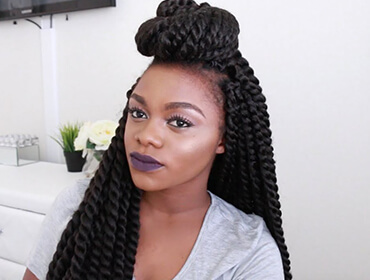 If you are looking for a protective hairstyle, which protects your natural hair but also gives you versatile styling options, Crochet Havana twists are the best pick. Just like your natural hair, your Havana crochet extensions also go through daily wear and tear. Keep scrolling to read three tips that will help you maintain your Havana twists for a longer time.
1. Maintain Your Edges
Most of us have baby hair around our edges, which are shorter and much more fragile than the rest of our hair. Havana twists are larger in size, thus they have a greater chance of being too heavy around your hairline. This can lead to tension hair breakage. Make sure you uninstall your twists every two-three weeks and get them redone. This will keep your look fresh and avoid tension around the edges. Ensure you use crochets that look voluminous but are light on your head to avoid losing your hairline.
2. Good Quality Weave
There are many Havana twist hair extensions available in the market. Buying a good quality weave is one of the most important points. Look for hair extensions that are light in weight and are restylable in nature. This will help you avoid tension around the edges and keep the look fresh for a longer period.
3. Keep It Moisturised
Moisture is the key! Your protective style, as well as your natural hair, requires moisture. Generously use hair moisturisers, leave-in conditioners, and natural oils to keep your tresses moisturised, shiny and hydrated. While outdoors, you can spritz a mixture of moisturiser and water on your locs to keep them fresh and healthy.
Now that you know how to have long-lasting braids, you still might be confused about washing them. Check out Wash And Go! Tips To Wash Extensions Correctly and solve your dilemma!
Follow us on Facebook and Instagram.
Image Courtesy: youtube.com