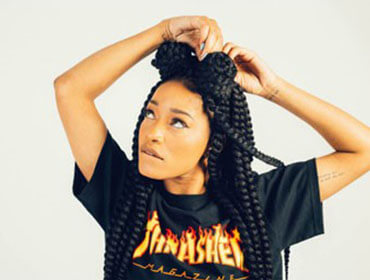 Protective hairstyles are a lifesaver, don't we all agree? Crochet Havana twists are the perfect hairstyle to protect your natural hair from environmental damage as well as give you an edgy, voluminous hairstyle. Check out this easy tutorial that will give you the twists of your dreams!
Step 1.
Before you start with the hairstyle, make sure you gently wash your natural hair with a classifying shampoo and apply a generous amount of leave-in conditioner on damp hair. It will help your hair retain moisture and stay hydrated. Detangle them gently before starting the cornrow process.
Step 2.
Once you are done detangling, start the cornrow process. Start cornrowing your natural hair from the front of your head to the nape of your neck. Attach them to each other at the end with the help of bobby pins or clips.
Step 3.
It is time to add the crochet twists! Invest in good quality and lightweight Darling Havana Twists/Havana Crochet and use a crochet needle to attach them to your cornrows. Start from the back of your head; use the crochet hook to install the twist in your cornrow. Once it goes in, form a loop at the beginning of your twists and pass the twist through it. Secure and tighten the twists. Like this, you have secured the first stitch.
Step 4.
Take more strands of Darling Havana Twists/Havana Crochet and start stitching them into your cornrows. Repeat the process and your whole head will be covered with classy Havana Twists crochet.
Step 5.
To finish the look, use a hair gel to tame the flyaways and baby hair. Your sleek crochet Havana Twists are ready to roll!
We can't wait for you to give this hairstyle a try! Tell us what you think about it in the comments below! Check out Protect And Slay That Style to learn how to maintain your protective hairstyle.