"It makes me feel like I can conquer the world." –  Thembi Seete. And we couldn't agree more. Just like Thembi, you can get the Darling look to step up your hair game and step out in confidence. With Darling's Empress Collection, you'll slay any style you choose. A hair change can spark newfound confidence within yourself, and Darling's range of gorgeous weaves is here to help. Darling's Brazilian Silky weave now comes with a weave closure in our packs. This gives you the versatility to style your weave with a full head of locs that look natural and glamorous.
Unsure of what style to rock next? Darling's Brazilian Silky Straight and weave closures let you seamlessly transform your length, volume and hairstyle into the look of your dreams. Our high-quality synthetic hair weave comes in three sizes, 14 inches, 16 inches and 18 inches. It has a human hair feel and can be styled in a long, sleek look, shoulder-length hair with a fringe, or chic bob.
Now make space in your phone for a new hair inspo album and start scrolling through Darling's guide to four stylish ways to rock your weave and wig closures.
The classic sleek look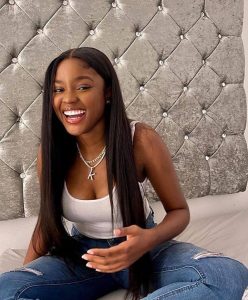 Never underestimate the classic Darling Brazilian Silky Straight weave in shade #1. It's a timeless, 100% high-quality blend for the unstoppable woman. If you're looking for weaves that are easy to maintain and the definition of a perfect hair game – our Brazilian weaves are the answer. They're re-stylable, reusable, heat friendly and washable. You can always count on Darling to give you styles that are lightweight and even lighter on maintenance. Let your hairstyle do all the talking when you pair your sleek 16 inches Darling Brazilian Silky with a neutral make-up look. Thanks to Darling, you can look incredible all day without spending hours fussing over your hair.
Waves fit for a goddess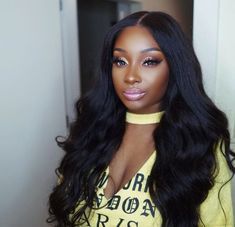 We're dreaming of more beach days with these perfectly styled waves. If you're looking to add a little bounce to your sleek straight look, consider Darling's weave closure to create these gorgeous natural waves at the bottoms of your hair to finish your look. This technique is a  great way to add some VA VA volume to your overall hairstyle. Pull off your waves by styling your Darling Brazilian Silky weave with a middle-part, and remember to apply silicone to your waves to keep them looking smooth, shiny and fabulous.
Live your best bob life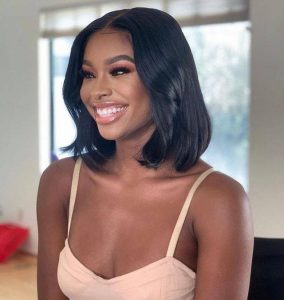 A sleek style with subtle waves can't go together, said no one ever. When you have a bob this flattering, all it takes is a weave closure and some simple curling in the front to give your overall hairstyle the wow factor. Or you could rock your bob in a silky straight style for just as much impact. Either way, you'll be bringing your A-game each time you step out. Will you answer your call to confidence with this Darling style? We can't wait to see it.
Get your fringe on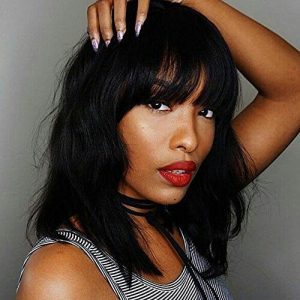 Sometimes we forget that even the simplest hair tweaks can make all the difference. Take Darling's Brazilian Silky weave and style it shoulder length with a fringe that just covers your brows. An edgy fringe is the perfect element to frame the face and give your overall style dimension. Leaving you with a stand-out everyday look that takes minimal effort. Darling's weave range is incredibly versatile if you're looking for a naturally wavy look that can be easily restyled and revamped to suit you, queen.
Remember that Darling's weave and wig closures are washable and easy to maintain for women who are always on the go:
You need to wash no more than once a week to keep your natural hair healthy and scalp fresh.
Towel dry it and use your fingers to detangle.
Wear a silk nightcap to prevent damage.
Now that we've given you even more reasons to be obsessed with Darling's Brazilian Silky Straight Weave, there's one thing left to decide – which hairstyle will you be rocking this season? Will it be long and luscious? Short and chic? Or an edgy fringe style? We've got all the inspo, and the only thing missing is you. Let's see how you rock your weaves and closures with confidence.
Visit Darling for more from our flawless range, or check us out on Instagram and Facebook to leave a like, comment or just keep up with all the latest trends on everything hair.