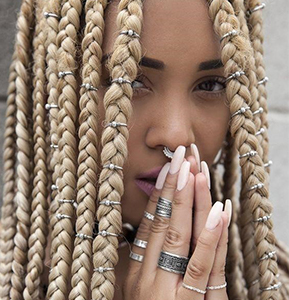 "Trust the Universe and respect your hair." – Bob Marley
It's time to go all out with some stunning braid hairstyles. Ladies and gents listen up – we're bringing you five of the hottest braid trends right now and we can't wait for you to see it.
From a braid with beads to bold braid colours, we've got braided styles that you just have to try. Keep on scrolling and have your pick at these fashion-forward braided styles.
Super Star Braids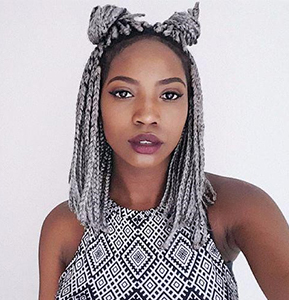 They say grey is wisdom, so why not let your hair represent your knowledge with these classy grey braids? This short bob box braid adds a fun and retro look to your style.
We also love how the top knot space buns bring the whole look together and give it an edgier look.  Short and snappy braided styles are becoming more popular, so give these hip braids a try with our Super Star Braids in the shade grey.
We assure that they'll make your day – every day.
Soft Braids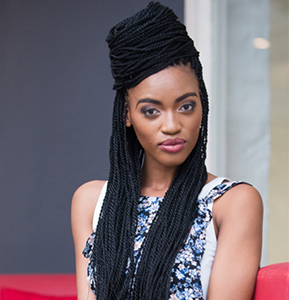 Classy and super cute is what comes to mind when describing this hot style. The Soft Braids are a tangle free hotwater braid that's easy to style for you to rock that fresh hair do.
You can twist them out and style them up as a bun to bring in the perfect amount of softness to the look. Get this fresh do with our Classic Soft Braid in the shades rich black and dark brown.
We know that with these braids and this hairstyle, you'll be ready to rule the town.
Green Yaki Braids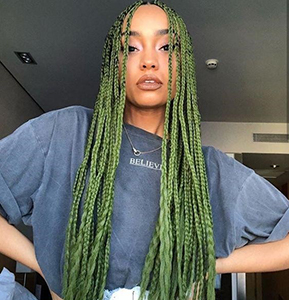 Make them green with envy with how fierce these olive strands look, pay attention now because this style is one for the books.
Unique and passionate, these extra-long braids are giving us power. Bring back your edge when you show up in these stunner braid styles.
We love how some of the braiding is undone at the end, they're animated and fabulous which adds an active vibe to one's personality.
Achieve this look with our Yaki braids in the shade olive and get ready to be a knockout.
EZ Braids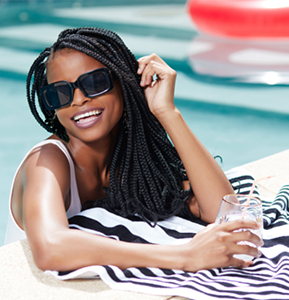 Ladies, get ready to leave an impression when you show up in these fierce box braids. Stylish, cool and modern – who wouldn't want to look this fly?
This "less is more" look is definitely winning our hearts, and is definitely going to let you Find Your beautiful easily because it comes pre–tapered to save you time.
Get this charismatic look with our EZ braids in different shades of solid colours, two-tones, three-tone blends and ombrè, and feel like a boss.
Lula & Naturi Braids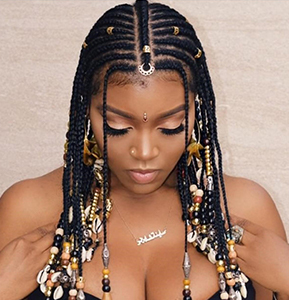 Braids with accessories never looked so good.  We're getting right on trend with these different trinkets and charms that you can add to your style.
Tribal and Fulani braids show off your creative side by adding in little braid accessories that match your style and character.
Cool beach shells add in a more free-spirited look. The brown beads give the look an earthy feel. The gold clasps add in a more luxurious look and everything in-between just ties the whole look together.
If you want to be a little more extra – add in some braid rings to elevate your hair to the next level. Get this glamorous look with our Naturi or Lula braids in the shade black.
Whichever style of braid you choose, it'll be sure to make an impact on your hairstyle!
One Million Braids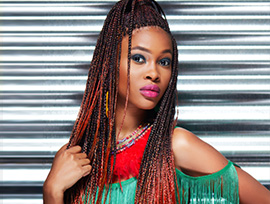 It's Spring, the perfect time for you to embrace your vibrancy with colourful braids – it adds both edginess and softness all at the same time.
This cool and dynamic look is in a league of its own. From its multicoloured braided strands to its long length wrapped up in a messy bun, we just can't take our eyes off it.
Get the look with our One Million Braids in the colours Rich Black Aqua mixed in with Lilac Sorbet.
We hope the different styles, colours and accessories have given you some real inspiration. It's time for you to take the lead and choose which braided hairstyle you'll be rocking next.
Flaunt your looks by tagging us on Instagram and Facebook, and we'll be sure to check you out.