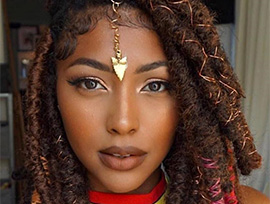 "I love my hair because it's a reflection of my soul. It's dense, it's kinky, it's soft, it's textured, it's difficult, it's easy and it's fun. That's why I love my hair." – Tracee Ellis Ross
African Queens, it's time to choose your crown and find a hairstyle that's true to who you are. Find your beautiful when you try one of these glamourous African hairstyles.
From Modern day weaves to traditional African braids, we've got you covered. It's time for you to feast your eyes on five glam African hairstyles that we have in store for you.
Bantu Locs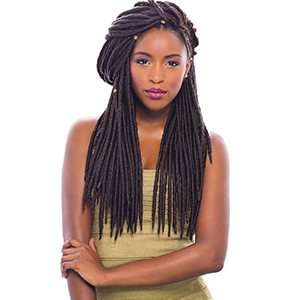 Gleam like an African goddess with these heavenly faux locs. Natural, long and royal, this hairstyle will be sure to give you the charisma you need.
With its nourished and shiny texture these hair extensions are gorgeous. From the mysterious dark chocolate tones to the touch of rich golden beads – this hairstyle is a complete look for the ambitious.
Achieve this charming look with our Bantu Locs range in the shade dark brown. Get ready to find your beautiful when these Bantu Locs bring out your inner radiance!
Envy Weave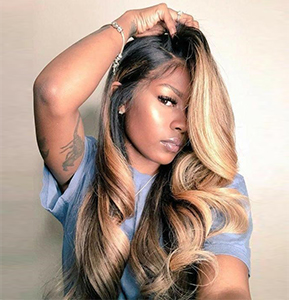 Bring out your alter ego when you rock this sleek and glossy weave. Enriched with lavish black and honey blonde shades, this ombre hairdo will satisfy all of your new hair cravings.
The long and luscious blonde curly waves are flattering and the dark roots  ground it. This modern day African hairstyle will take your hair game to the next level.
Pull off this dazzling hairstyle with our Envy Weave range in the combination shades of rich black and honey blonde.
Jozi Dred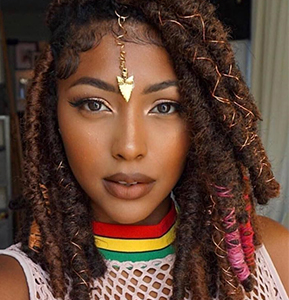 Thick, ethnic and unique, these strikingly traditional dreds will ignite a fire in your heart and soul. Rock this majestic African hairstyle with pride and joy when you try out Jozi Dreds.
We've always seen hairstyles with long dreds, but this shorter style definitely kicks it up a notch. Its natural and earthy brown tones set the tone of peace, serenity and tranquillity – it's a total look and vibe for the free-spirited.
The touch of colourful strings brings life to one's character and shows off a sense of passion. Get this expressive hairstyle with our Jozi Dreds in the shade dark brown and get ready to turn your woes into joys when you find your beautiful.
Superstar Braid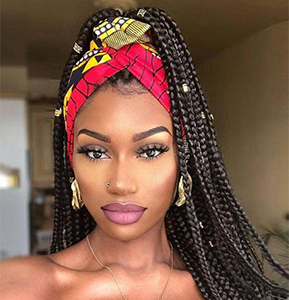 There's no hairstyle that screams African culture quite like braids. That's why we just had to add in these luxurious braids. Deep-rooted and sophisticated, this traditional African hairstyle is here for the win.
Express your self-confidence like a queen when you shine in this fabulous hairdo. From the rich and strong black colour to the feminine touch of golden cuffs, you'll be sure to find your beautiful in these natural hair extensions.
Add in an African patterned headwrap to bring your whole look together and stand proud with your ethnicity intact. Achieve this fabulous look with our Superstar Braids in the shade rich black.
It's time to conquer your roots and look your best in some traditional African braids.
Talia Weave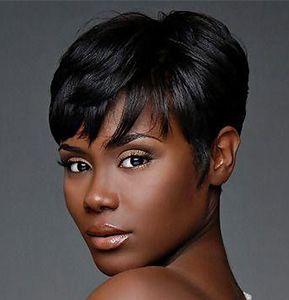 The pixie cut. It's a hairdo that you just must try at least once in your lifetime. This fun and flirty pixie cut weave sends chills down our spines.
Simple, yet bold, this modern-day look embraces the naturalness of an African hairstyle. It's a look that's easy to maintain and style, perfect for the busy women out there who are ruling their lives.
We love the richness and smoothness that this pixie weave has to offer as well as the textured layers on layers. It sets the tone for a trendsetting hairstyle.
Get this glam look with our Talia weave in the shade rich black and get ready to find your beautiful with this bold and natural hairdo.
With five authentic African hairstyles to choose from, you better get started. Embrace your African pride and feel your best when you try out your favourite pick.
Comment below on which hairstyle will be your next crown and tag us on Instagram and Facebook to show us your look.
Be gorgeous, feel glamorous and find your beautiful when you rock an African hairstyle!