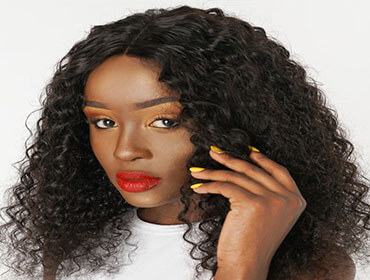 Hair weaves are a great way to add to the fullness and length of your hair, and to add some style and glamour to your everyday look. They also cover up existing damage, do away with the need for regular heat styling and give your natural hair time to rest, recuperate and grow.
However, for someone who isn't accustomed to wearing hair weaves, they can seem a little tricky and confusing. To help clear your doubts, we've put together a list of the most commonly asked questions.
• How are weaves worn?
Your hair is first woven to create a flat, seamless base. Bundles of hair are then attached to the woven hair, using a specialized stitching method. They are also categorized based on texture – Yaki weaves, such as Darling's Wolosso weave, are known for closely resembling relaxed Afro-Caribbean hair.
• How long does it take to get a weave?
The duration may vary depending on the style you've chosen, the texture of the natural hair, or whether you opt for a professional stylist or to do it yourself. However, most styles take up to three hours.
• Do weaves damage your hair?
If installed, cared for, and taken off correctly, they can actually improve the health and quality of your natural hair since they do away with the need for heat styling, constant combing, colouring, and other processes. They can also help to retain moisture and prevent dryness.
• How long do weaves last?
Most fixed weaves last for anywhere between 3 and 6 weeks, depending on how well you maintain it. While you can take your weaves out yourself, it is usually recommended you seek professional help a few times to understand the right technique to avoid damage.
Eager to learn more about how you can use and care for weaves? Read our tips on Wash Away! Best Way To Wash Your Extensions