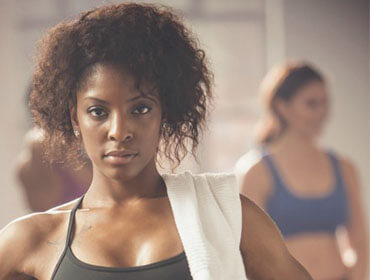 Working out with hair extensions can be a little challenging, especially if you're still rocking your very new and fresh weave or braid. However, don't let your fabulous hair get in your way of sculpting the body of your dreams. With the right tips, you can easily work on your fitness goals, without compromising on your style.
1. Address Your Leave Out
Leave out is, quite simply, your own hair that is left out when getting a weave and is subsequently blended with the hair extensions usually in the front. Before you hit the gym, make sure to protect your leave out with a good moisture-giving hair cream or gel. Make sure to smoothen the product in your hands before application.
2. Choose A Workout-Friendly Style
If you hit the gym regularly, the best style to rock is braids which protect your own hair and keep them out of your way. Here, cornrow braid styles work even more excellently and can either be worn down or twisted into little buns. Similarly, a top knot or a high ponytail is also an excellent gym-friendly style.
3. Wear a Satin Cap or scarf
The satin forms a protective barrier for your hair and protects the edges of your hair. It also prevents moisture from reaching your mane.
4. Use Extensions That Match Your Curl Pattern
This ensures that even if your edges sweat out, they still blend seamlessly with your natural hair. Choosing a high-quality extension, such as Darling's medium-length Yaki bob weave, is an excellent way to look stylish while sweating it out at the gym.
Weaves and braids make changing your look quick, easy, and fun. If you're looking to rock a brand-new style that turns heads within and beyond the gym, these 4 Cool Hairstyles With Weaves are sure to give you some interesting ideas.