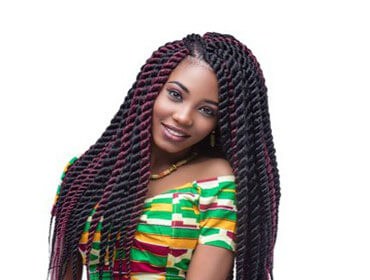 This hairstyle is quite reminiscent of Janet Jackson's braids from Poetic Justice, and is rapidly gaining popularity for its ease of application and versatility. Users claim to simply take the braids off when they tire of them, and crochet them back on when they're ready to sport big braids again. With a little practice, you can nail this style in less than an hour. Make sure to use high-quality twists, such as Darling's Havana Twist.
Here's how you can go about applying your Havana Twists.
1. Detangle your hair and apply your favourite oil to protect and moisturise the strands.
2. Working from under the crown, divide your hair into two sections. The lower section will be smaller than the top section.
3. Braid your hair into cornrows, beginning at the front and going all the way up to the back.
4. Cornrow the hair in the lower section and secure the lower section together with a hairband.
5. You can have a smaller number of cornrows in the lower section as compared to the upper section if you like a fuller look towards the front of your head. However, bear in mind that the cornrows do not have to be perfect since the Mambo twists will cover them.
6. Using the crochet needle, hook the Havana Twists into your cornrows.
7. You can style your Havana Long Twist into elaborate updos or wear them down in a free-flowing style.
Like braids and cornrows, Havana Twists require regular care and maintenance to keep looking their best. Check out our tutorial on Hassle-Free Ways Of Maintaining Your Protective Style for proven tips.
Follow us on Facebook and Instagram.