"Being an African does not just mean I was born in Africa. It means I have embraced my culture and acknowledged my worth. I am an African, not because I was born in Africa, but because Africa was born in me." – Author Unknown
This Africa Month, we celebrate and commemorate the formation of the African Union, formerly known as the Organisation of African Unity.
Since 1963, Africa Month has been regarded as a time to reflect upon the common challenges that the continent faces in the global environment. It is also a time to celebrate the beauty of being a child of Africa.
What makes you African? Is it your culture, traditions, or how you approach your life?. Or is it your hair? Hair says so much about you. It can communicate your age, marital status or even your tribe.
Afro-textured hair has a different curl type to that of other races. It is also very versatile. African hairstyles can also be a form of expression, and no one knows this better than Nikiwe Dlovu.
She gives a new meaning to hair art. From using braids and wool to beads and shells, she never fails to bring a personal touch to her African-inspired hair. Here are our top picks that you should try.
Light up your look with this fiyah hairstyle. This hairdo is a modern take on the old school Benny and Betty braided hairstyle. Nikiwe Dlovu makes this classic look pop with orange wool.
If you said yes to this protective style, then get the shade with Darling's EZ Braids. With a range of red, orange and yellow blends, you can get a unique creation that Nikiwe Dlovu would be proud of.
Tribal swag to the max.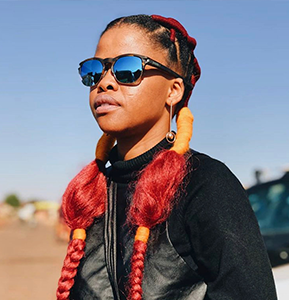 Bring out your inner angel
Float into the clouds with this free-flowing afro look with a middle parting. This low mega puff and halo braid is a fresh and feminine hairdo that deserves to be shown off.
Take some tips from Nikiwe by embellishing the look with metallic strings and silver and pearl accessories.
Use the Darling Vibrations hair piece to put together this playful look. Its soft, kinky texture blends in well with your natural hair. Choose a shade that's similar to your natural hair colour, like 2B, for best results.
Loosen those braids for a free-flowing mega afro.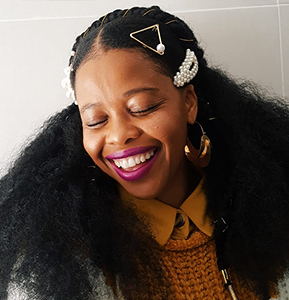 Best of both worlds
We're crushing on this African-inspired braids fringe and high pony. This classy look lets you enjoy braids and your natural hair all at the same time. We love how she brings this look together with matching braided earrings.
If you're into this look, get it with Darling's One Million Braids hairpiece. Then wear to your friend's slam poetry session and watch the compliments roll in.
Orange-yay!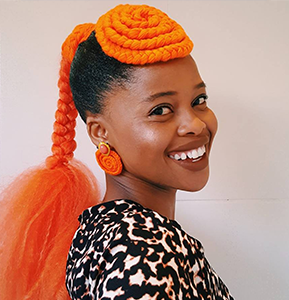 Keep it royal
Like a modern African goddess, Nix wears her crown with pride. This hairdo is a beautiful combination of various braided pieces and loose strands, in a multitude of earthy colours. Are you wondering where to wear this piece of art?
Why not stun at the Durban July and let them bow down to your bold crown.
Embrace your inner royal highness.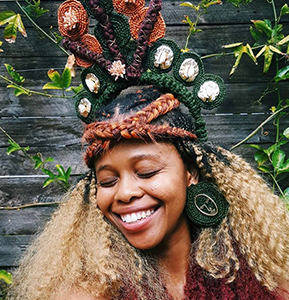 Rock a metallic top bun
Simplicity is the ultimate sophistication, and with a touch of gold, it's super sophisticated. With rubber bands, bobby pins and Darling's Vibrations hairpiece, you can reach new heights.
Nikiwe Dlovu kept it chic with a crisp white shirt, classic biker leather jacket and statement earrings. Rock this classy look at the next Farmers Market you attend.
High on life.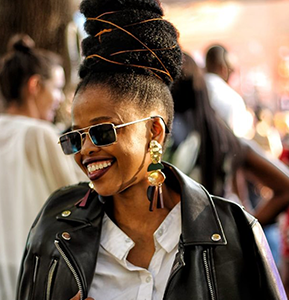 Make a statement
If you want to bring your afro out to play, but you also want to add a bit of glam, then say hello to this stunner. Intricately braided into spirals with shells to accessorise, it can take any afro to another level. Slay uMembeso African-inspired braids with this headpiece fit for a queen .
Stay queening.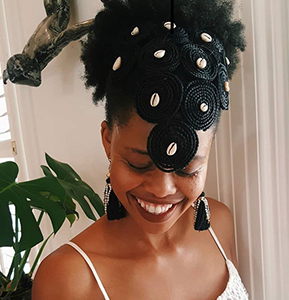 Bonus: Stand out with a braided wheel
This simple but head-turning updo is what protective style dreams are made of. It lets you show off those pretty edges, keeps your strands protected and allows for length retention (because shrinkage is real).
Get that wheel going with Darling's Yaki Braid or Soft Braid. Then hit Jazz on the Lake with your besties.
Wheel of good times.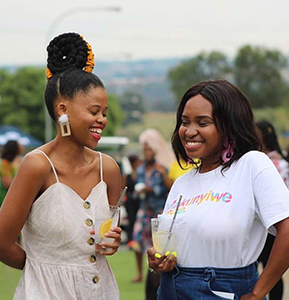 Celebrating being an African should go beyond Africa Month. It should be something we do whenever we're given a chance. With Nikiwe Dlovu's catalogue of hair inspiration, celebrating your Africanness can be an everyday thing. Follow her on Instagram for on-demand inspiration.
Darling has all kinds of hair for all kinds of beautiful. Follow us on Facebook for the latest on all things hair.