What makes you beautiful?
The word 'beautiful' means different things to different people. To celebrate Darling's rebranding, we've embarked on a journey of self-discovery.
Our product packaging is changing from its signature red to a regal purple. We want to know what beauty means to you.
"Beauty is in the eye of the beholder. " – Margaret Wolfe Hungerford.
Being in the spotlight opens you up to public scrutiny. No one knows this better than these women representing the beauty industry.
From a hair blogger to a beauty queen and a choreographer, we've gathered five thought leaders to weigh in on the conversation. Find out how they find their beautiful in an increasingly judgemental world.
Zuziwe Gcuku
This digital marketing enthusiast and content creator is more than just a beautiful face. She is the founder of IQonga Digital, a full-service digital marketing agency.
Its primary focus is on empowering small to medium black female-owned businesses. We asked her what beauty means and this is what she had to say.
" For me, beauty is the freedom to choose what you want and through my hair, I've been able to find my beautiful. " – Zuziwe Gcuku
When she's not making money moves, she's creating shareable content on Instagram.
Beautiful lesson: The freedom to choose is the most beautiful thing.
 This bob look is fire. Get a similar look with our brand new, Indian Remy.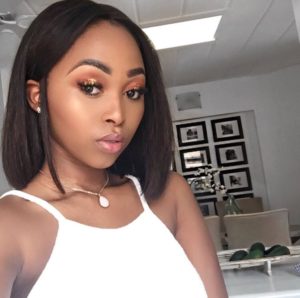 Miriam Maulana
"They are so many different flowers in the world. And each one is beautiful. We ARE just like them, I've found my beautiful by sharing different sides of myself and each one is just gorgeous and so are you. Makeup/no makeup, natural hair/no hair at all, light/dark, Petite, Average/Plus Size. We are BEAUTIFUL. " – Miriam Maulana
Miriam gives us serious hair inspiration, all day, every day.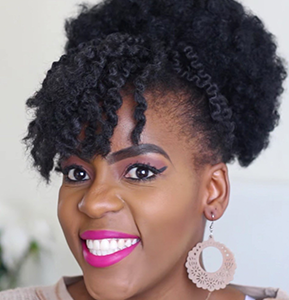 We couldn't agree more with the bubbly Miriam. She's not afraid of exploring her different sides. She's known for her YouTube channel and website that delivers haircare, skincare, fashion, and beauty topics in a playful way.
This Zimbabwean beauty can make magic with Darling products too. Watch how she whips up a drawstring ponytail with Darling's Superstar braid:
Beautiful lesson: Don't be afraid to explore the different sides of you.
Roseanna Hall
As Former Miss Zimbabwe SA 2015, this beauty queen turned blogger/Mpho Popps bae, Roseanna Hall knows all about the spotlight. Here's what she had to say about beauty:
"This is me, makeup-free and real. My #FindYourBeautiful journey is one I'd like to share with everyone because I know we are all working towards loving ourselves completely and struggle with finding ourselves beautiful on our worst of days. I consider myself to be diverse in my expression of my beauty – I don't have one static subscription, my hairstyles are constantly switching up and I express that through my hair. " – Roseanna Hall
Beautiful lesson: The ability to express yourself in diverse ways.
Whether she's rocking a weave, afro, or braids, Roseanna always knows how to find her beautiful.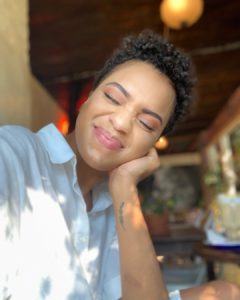 Image Source: Picgra.com
Foyin Og
"@darlingsouthafrica asked me to define beauty and it was quite tricky because beauty is something I've struggled to define my whole life – mostly because it took a lot of unlearning about what I thought beauty was and then learning that beauty has no one shape or form. One person's beauty doesn't take away from another's and even for myself. " – Foyin Og
Beauty and lifestyle YouTuber, Foyin Og is no stranger to different kinds of beautiful. As a makeup artist, her work involves transforming everyday women into glammed-up versions of themselves for their matric farewells, weddings, and graduations.
In a superficial world, Foyin Og knows how to stay true to herself.
"You have the power to be anyone you want for however long you want. You are the curator of your own aesthetic – and you should let that power liberate you, not frighten you."
Beautiful lesson: Embracing the person inside and let that liberate you.
Feeling Foyin's braids? Get your hands on our brand new Soft Braids.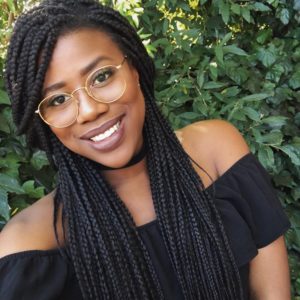 Takkies
Takkies, aka Nkateko Dinwiddy, is best known for her work in encouraging fitness through choreography. She's the creator of Rockingnheels™ Dance Workout, which is all about feeling positive, getting fit, and doing it all in heels. Plus she's a yummy mummy.
Her mission is to inspire and spread positivity. She embraces who she is and dares you to do the same.
"In a society where having light skin is perceived as the ultimate beauty, HERE I AM. DARK. BEAUTIFUL and UNSTOPPABLE. Finding my beautiful was a journey I definitely needed to go on and I continue to explore."
Takkies doesn't let her skin colour define her.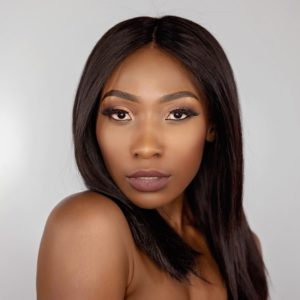 Beautiful lesson: Own who you are.
Finding your beautiful may not be an easy journey, but it's definitely a fulfilling one. Darling has all kinds of hair for all kinds of beautiful.
It's designed for the unstoppable, unapologetic, fierce, and ever-evolving woman. So no matter how you're feeling today, you can find your beautiful.
Visit our Facebook page to join in the conversation on beauty.