"I don't think black hair has ever been seen like this in a blockbuster movie at least not by me." – Patrice Williams, writer at Hello Giggles.
This year, The Black Panther put African hair on the main stage. We got to see so many incredible looks. Crochet braids, Bantu knots and even Faux locs. The movie gave us so many hair goals, it's hard to pick our favourite. Instead, we've managed to narrow it down to our top 5 for all the Darling girls out there and we can't wait to share them with you.
Wakanda Knots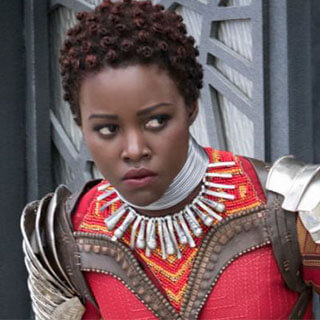 Obviously, the first Black Panther hairstyles that made the top of our list are the iconic, Wakanda Knots. In the movie, Lupita Nyong'o's character, Nakia, is the goddess who really brings this look to life.
This look works wonders for the heroines on screen and the fans off-screen. It's a casual hairstyle that also works at formal events, parties, and even some undercover spy work.
Wakanda Knots are very similar to Bantu knots but look more like a textured afro. The style was described by New York Times writer, Crystal Martin as: "We're basically starting with a flat knot. Meaning, we're taking the hair by sections and twisting it upon itself, twisting it down to what I call a flatter, cinnamon-roll shape." And there you have it, the Wakanda Knots.
Half-Moon Braids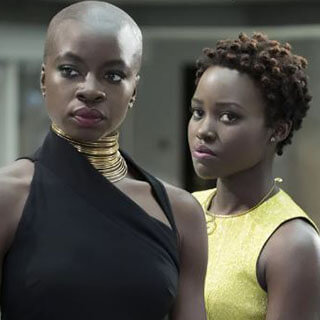 Next up are the Half-moon braids. During her big battle scene, we saw Shuri rocking this exquisite look and slew in life and in combat. This look is totally worth fighting for.
Letitia Wright wears this top knot style with a purple top braid that gives the look an extra boost of Wakandan pride.
Shuri's tribal makeup was the bomb. She looked like a modern African Princess.
The half-moon braids are an intricate style that makes this heroine super styling. She's ready to rule and slay with this do. She's a real Darling.
Faux Locs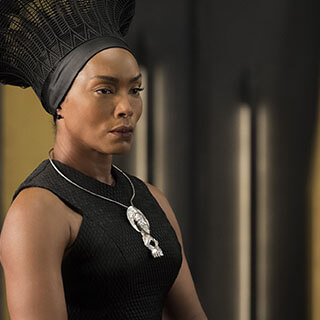 Angela Bassett is Queening, literally, in Black Panther. She may have not been the leader of our new favourite place to be, but Queen Ramonda's hair game was a thing of royalty.
This particular Faux locs look took over a month to perfect and honestly it was so worth it. A queen always needs her crown and Queen Ramonda is never without hers. Forget the jewels and the gold, we need more monarchs to wear faux locs like this to show us how they rule.
Red carpet royalty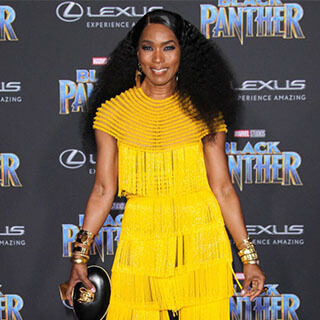 Angela Bassett didn't just slay with her hair game on set but also rocked this fabulous hairstyle at the world premiere of Black Panther.
It was an honour to see our favourite queen rock this natural blowout look. Did you know you can recreate it with a black Darling Brazilian wave weave? Its length and texture are the perfect fit for this bold hairstyle.
We love how Angela paired her fabulous do with an amazing mixture of yellow shades. The hair, the accessories, and the colours blend so beautifully together to make this superstar stand out and dazzle.
Super slayer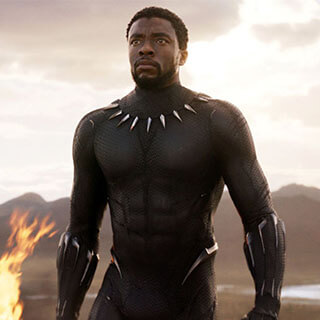 Another celebrity who swept us off our feet both on and off-screen was the amazing Lupita Nyong'o. Playing the role of Nakia, the love interest with the strength of an army, we saw Lupita introduce the Wakanda knot to the world. Her hair at the world premiere of the film is just as fierce.
We know Black Panther himself is the one with superpowers, but Nakia is able to slay and save the day. She's not just a Black Panther hairstyle icon, but a powerful role model too.
We can't get enough of her royal purple dress and gold accessories that made her hair glow up even more. There's no spotlight bright enough for how flawless this celebrity crush looks on the red carpet.
The Black Panther movie has been our obsession for all of 2018. It was the cherry on top to see the characters showing off their killer hair game in Avengers Infinity War in May. We can't wait to see you pull off one of these 5 flawless looks from our favourite movie. Visit our website at Darling Southafrica for everything you need to make yourself look like Wakandan royalty.
Show us how you slay Black Panther hairstyles on Twitter and Instagram and follow us for more essential style guides.