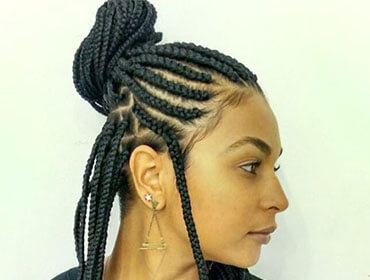 Image Courtesy: Loud In Naija
"I love my hair because it's a reflection of my soul. It's dense, it's kinky, it's soft, it's textured, it's difficult, it's easy and it's fun. That's why I love my hair." – Tracee Ellis Ross
Hail to the mighty Fulani braids. This style is taking over in all the fashion circles and we are loving it. Did you know that this stunning style came from the Fula people who live in nomadic tribes in North Africa?  Africa isn't just the cradle of humankind. It is arguably the continent with the best hair game on the planet.
What makes Fulani braids so much more trendy than regular cornrows? We say it's their unique patterns and the ability to decorate them to achieve an amazing range of hairdos. There are so many Fulani braid styles to choose from.
Here are the top 5 that we think you should try.
Black and beaded Fulani.
Fulani hair is African style at its hottest so it's no surprise that it works with one of Africa's most beloved accessories, beads. Add one, two or three at the end of each braid to add movement and personality to your look.
Not sure which colour to choose?
Wooden beads are the best way to add some sass to your look without trying too hard. With a whole spectrum of colours to play with, your long Fulani braids can say a lot about who you are.
The beads knees
High Pony Ombre Fulani
This look works because you get the best of two worlds. A sexy, high ponytail and pretty two-tone braids This ponytail is made of symmetrical curves on the head followed by some wrapped extensions at the back.  Don't be afraid to add beads to this look. This queen has chosen gold accessories to make her style shine even more.
How do you wear your pony?
Bun up the style Fulani
This Fulani bun is a stunner. It keeps your hair away from your neck while looking fabulous at the same time. Show off this fabulous Fulani look by adding some added beads for a look that says YAASSS GIRL.
Up your bun game by adding some colour and accessories to this easily customised Fulani bun. With the right coloured Darling braids, you can make this look a masterpiece of fun and dazzle.
Feel the bunder
Fulani Braids
The long Fulani braid is a classic way to achieve a stand out Fulani look. This woman slays with a simple style that's accentuated with one gold ring.
For a sophisticated look, leave the beads of this one.
Casual outfits best complement this Fulani style. Denim and bright colours are especially well suited for it. Pair it with some jeans, a shirt and shine.
Wear it your way.
Fulani Blonde Braid Crown
Every African queen deserves a  crown and why can't it be a Fulani one? The geometric braided patterns are what really give this look the royal treatment. To complete this style you need to have one central cornrow and 2 braid extensions on the side.
Your crown needs to reflect your inner queen so make sure you add the extra jewels and colours to make you look like royalty.
The slayer in this pic used shells and a blonde hairpiece to put the most glamorous finishing touches on her crown.
This look is definitely an attention grabber. The more work you put into it, the more everyone else will thank you. Take your hair game to the max with a Fulani braid hairstyle to rule them all.
Fulani is one of the hottest hair trends of the year, so jump on and do it your way.  Get decorating, get braiding and get fabulous with Darling. Show us your Fulani style on Instagram or Twitter and find the brands you love on our website.