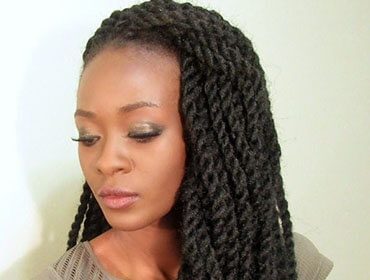 Courtesy: Youtube
Senegalese twists are twisted down to the root and are extremely strong and durable. They are a wonderful way of keeping your hair neat and in place and keeping it healthy without compromising on style. The rope-like result looks absolutely beautiful, so read on to know 4 amazing Senegalese twists styling tips.
1. Versatile And How
Senegalese twists are one of the most versatile protective hairstyles you can get. Tie them up in a topknot, braid them into a big braid, do a side twist or simply wear them loose. They are extremely versatile and you will never have a dull day getting these!
2. Type Of Hair Extensions
The best type of hair extension for Senegalese twists is a smooth hair extension that will ensure that there are no flyaways from the braid. It is easier to form the braids and the process is simply made easier. We've tried the Darling Super Star hair extensions and the Afrelle fibres perfectly set in with hot water. Soft, shiny and thick twists are what we get with these extensions.
3. Always Secure The Ends
It is important to secure the ends as it can lead to tangling and knots. Seal the ends by dipping them in hot water for half a minute. This will perfectly seal the ends and prevent fraying as well. Trim the ends regularly if they are prone to fraying.
4. Maintenance
If you wish to wear your Senegalese twists for a long duration, then you can get the ends re-twisted to keep them fresh. Deep conditioning is key to neat twists, therefore, use a leave-in conditioner or oil and spritz some moisturizing spray for some added rejuvenation and sheen.
Now that you know this, check out the Hairstyles To Create Using Super Star Extensions.