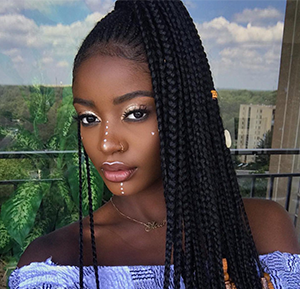 Being yourself is the prettiest thing you can be. – Author unknown
Social media connects us to the world, easier than ever before. We upload photos in seconds and can connect with thousands of people from all over the world.
As awesome as this is, it also opens us up to negative comments.
Keeping your confidence levels on lock has never been more crucial because anyone with a wifi connection can press 'like' on your post or dim your shine with rude comments.
Finding your individual beauty lets you shine in a superficial world. Hair plays an important role in expressing who you are. You can change it up to suit your mood, taste or style without compromising who you are.
With our brand new Super Soft Braids from our Premium collection, you can be picture-perfect for the 'gram all the time. Here are five ways to express your pretty self.
The low down on Super Soft Braids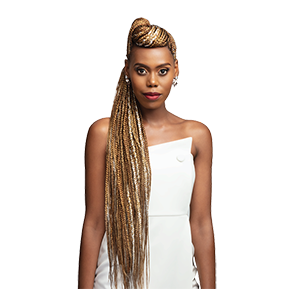 Our newest addition to the Premium collection is a worthy upgrade from the Soft Braid. This hot water fibre blends in well with natural hair and is available in a range of five solid colours and blends. Here are the five ways to make the most of this awesome braid:
1. Beauty and the box!
The box braid always catches people's attention due to its boldness. For this style you'd need at least seven packs to get thick, poetic justice braids Janet Jackson would be proud of.
This hairstyle speaks volumes on days when you feel like giving people something to talk about or when you're taking a break from being a social media diva.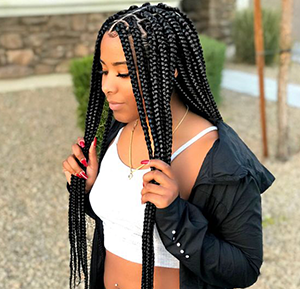 Tip: Go for extra long black braids to ignite your 90s swag.
2. Shield thy ears with your Braids
If box braids are too big and bold for you, go tribal with Fulani braids. This style is uber fun because you can keep it simple or upgrade it with bold accessories.
You choose the direction of the braids to suit your personal style. Why not go for an ombre blend, to really take your look to the next level? These envy-worthy braids are exactly what you need to show off your inner African queen.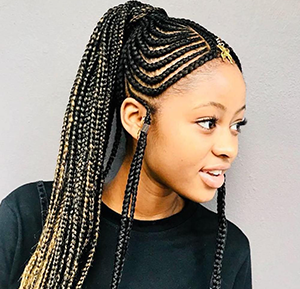 Tip: Add hair accessories to your braids gives a unique edge.
3. Bigger is Bolder
The bigger the box the bigger the noise. While box braids will get their attention, bold and bright triangle braids will make sure the spotlight stays on you.
Plus, if you add triangle parting, you raise your hairstyle to #OnFleek levels.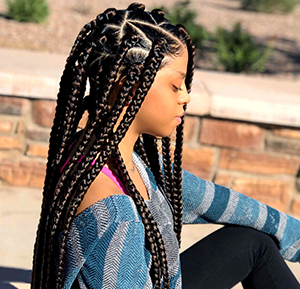 Tip: Combining a dark colour with slightly lighter strands brings out a beautiful fusion of personality and flair.
4. Fashionably braided
Let your style evolve by changing things up with Ghana braids. This updo is easy to achieve with our Super Soft braids because of how easy it is to handle them.
Push the boundaries and use your hair as a runway for your fashionable braids. From upbraids to twists start the trend and run it.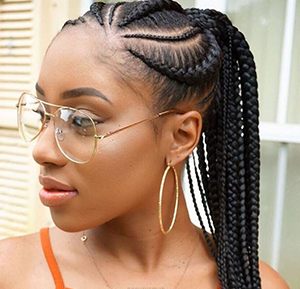 5. Beads for your beauty
Adding accessories to enhance your hairstyle offers an extra dimension to your look. Whether you choose colourful beads or a rustic earthy look, your street cred level will definitely increase.
Hearing the beads rhythmically clash as you walk will block out all the negative commentary and energy that your detractors share with the air that you breathe. Let the beads dance to your tune.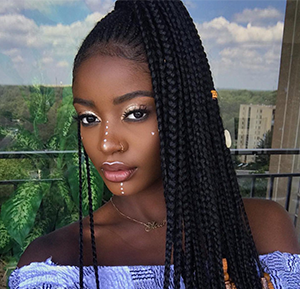 Tip: The more earthly the look, the more natural you feel.
People will talk about you regardless and with the use of social media, your responsibility is to slay while they do it. If there is anything they can't take away from you, it's your style.
Express your true style in a variety of ways with the Super Soft Braid's range of solid and blended shades. Choose a braid and let them marvel at your existence.
Like these hairstyles? Visit our Facebook page for more inspiration.