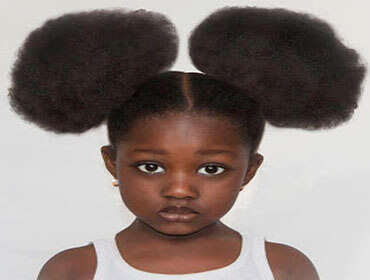 Taking care of your child's hair may seem like a mammoth task! However, we are here to make sure it doesn't have to be. Apart from being an important cultural reflection of your child, black hair is naturally coarser, drier and densely packed. Keep scrolling so you can master the art of caring for your child's ethnic black hair!
1. Wrap It Up
While your baby sleeps, he/she can lose a huge amount of moisture. Cotton pillowcases absorb all the moisture, leaving the hair dry and frizzy. Make sure you tie a satin scarf or a satin bonnet around your child's hair at night. This applies whether your baby is wearing hair extensions for kids or not. You can also walk an extra mile and use a satin pillowcase for extra protection at night.
2. Keep Them Moisturised
Keeping your kid's Afro hair hydrated and moisturised will result in thick, smooth and healthy tresses in the future, and your child will thank you for it! Keeping a good hair regime is vital at this stage. Apply a good moisturising conditioner for a daily dose of moisture and easy combing. Make sure you apply hydrating oils to keep frizz and dryness at bay. Pomegranate seed oil, Jojoba, and Almond are some of our favourites!
3. Hair Extensions
There are numerous amount of hair extensions for kids that you can use to make protective hairstyles. A protective hairstyle will protect your child's natural hair from pollution, dryness and dust. A little maintenance around the edges is the only requirement!
However, make sure you un-install the protective style after a month or two and let the natural hair breathe. Make sure to use hair extension products specifically made for the special needs to your girl child's hair. Special products like Darling Yaki Braid cater to the specific needs of your girl child not only protecting their natural hair and but also revealing the princess that they truly are.
4. Watch The Hairline
If braids are installed too tightly around the hairline, it can cause breakage and even permanent hair loss. Always moisturise your kid's edges properly and do not create styles that cause stress on the hairline. Loose cornrows, ponytails, twists, and braids can be an effective alternative.
Looking for the best way to maintain your child's 'fro? Have a look at Ways to Maximize Your Kid's Natural Hair Growth with Extensions
Follow us on Facebook and Instagram.
Courtesy: adunniorganics.com