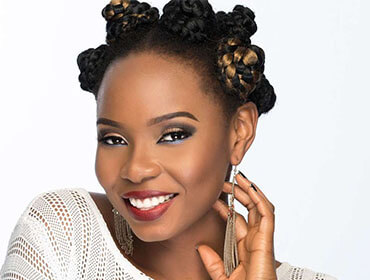 Nigerian pop star Yemi Alade is definitely hair goals! She is a celebrated musician, who is not afraid of trying daring hairstyles. Throughout her career, she has sported various funky hairstyles that successfully caught public attention. If you wish to style your hair like her, you are in the right place! Keep scrolling to learn her celebrity hairstyles.
1. High Rise Twist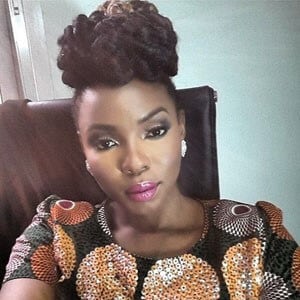 Yemi definitely knows how to rock a high rise twisted bun. This twist has three colours and she adds sultry makeup to finish this look. You can achieve this simple look by bunching up your Darling Super Star Braid and wrapping them around each other at the beginning of your hairline.
2. Purple Braided Bun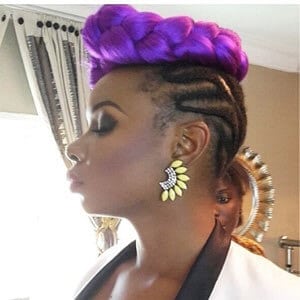 No one else can pull this funky hairstyle better than Yemi Alade. After cornrowing her hair into a classy shape, she added a thick eye-popping braided bun. The bright purple coloured braid enhanced the whole look dramatically. Recreate this look by cornrowing your natural hair and attach a jumbo purple braid using Darling Ombre Braid or Darling Superstar colours.
3. Bantu Knots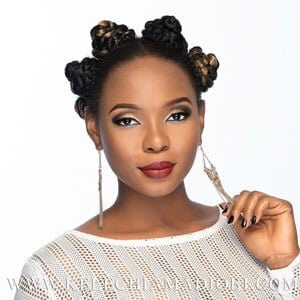 Yemi is known to rock hairstyles that are authentic to her community. These Bantu knots look playful and funky. You can achieve them by simply sectioning your hair, attaching Darling Soft Braids and wrapping themselves around each other on top of your head. Just remember if Yemi can, so can you!
4. Long Free Twists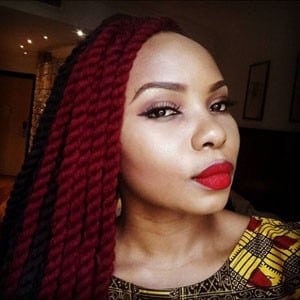 Yemi sported this very refreshing look, which undoubtedly is eye-catching. It is an admirable hairstyle, which is also extremely easy to recreate. Just twist two sections of your Darling Superstar Braid colours into one another and our twists are ready to go! Pick from different colours to suit your style and mood.
What are you waiting for? Start recreating her hairstyles now! Check out Yara Shahidi's Best Hairstyles for more glamorous celebrity hairstyles.