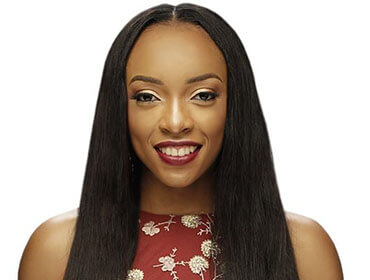 Considering a weave as your next go-to style?
Why wouldn't you? They're low-maintenance, protective, low commitment and allow you to be versatile.
You have to admit, we all look forward to the much-needed break from styling our natural hair every now and then. But, while it's great to have less admin involved in your hair routine, it's still important to keep your natural hair and scalp healthy under your weave.
The biggest issue with protective styling is the "set it and forget it" attitude we tend to take on. We sometimes forget that the beauty in protective styling is that your natural hair should be in a better condition than when your weave was first sewn in. Well, at least that's always the goal, but never really the end result.
Why? Because we don't always focus on making sure our natural hair thrives under a weave. Caring for your natural hair before, during and after having a weave is essential.
1. Haircare that maintains and retains.
Not sure where to start? We've put together 7 essential tips to give your natural hair the tender, loving the care that it deserves.
Tip : Pre-Weave Conditions
You want to be sure that your hair is looking and feeling healthy before wearing a weave. Treat weak and damaged hair with African Pride Olive Miracle Maximum Strengthening Growth Oil Link. This oil helps to stop breakage, split ends and dryness. It also works especially well as a hot oil treatment.
Trimming your hair can also help to remove unwanted and unhealthy split ends.
Remember: The goal is to have your hair feeling and looking its healthiest pre-weave.
2. Help your natural hair thrive.
Tip : Get Scrubbing
This will be the last time you have direct access to your natural hair for several weeks. So it's important to make sure your scalp gets a good scrub. Here's how to do it:
Gently massage your scalp in order to loosen any dirt and product.
Use conditioner after you shampoo to help retain moisture and add protein back into your natural hair.
Finish off your wash routine by adding Olive Miracles Moisturizing Lotion to dry hair Link.
This light formula helps prep your hair by keeping it non-greasy before you instal your weave.
Remember: If you treat your natural hair with the right moisture retaining products, there will be less breakage when you remove your weave after 4 weeks.
3. Properly washed hair minimizes breakage post weave.
Tip : Small and Loose Braiding
The foundation of your protective style is everything.
That's why it's so important to make sure that your base braids are small and not too tight. Opting for chunkier braids tends to leave you with a bulkier weave. While cornrows that are braided too tight can cause tightening and tension that leaves us with a temporary facelift and reaching for that Panado.
Tight braids can ultimately lead to thinned out edges (which we'll get into later) or even a receding hairline. Avoid the damage control by opting for loose braiding accompanied by fairly loose sewing.
Remember: It should be tight enough to stay in place, but loose enough to preserve and protect your edges.
4. Your can make or break your weave.
Tip : Oil, Spritz, Slay
Once your weave is in place, the key to preserving and protecting your natural hair underneath is maintenance, maintenance and more maintenance.
Your natural hair often loses moisture with a weave on. Try to make a routine of applying nourishing oils such as coconut and jojoba to your scalp. A water-based spray-on moisturiser can also work. You can make your own spray using one-third glycerin (draws moisture into your hair) and two-thirds water.
Separate each track and apply the oil or spray-on moisturiser row by row.
It's important to pay attention to your hairline by massaging the oils in to increase blood circulation and stimulate hair growth. A scalp massage is especially great for easing that dreaded itch under your weave. Massage your scalp 2 to 3 times a week either using your fingers or use the good 'ol hlokoloza.
Secure your weave at night under a satin scarf, pillowcase or cap.
Remember: Make sure to use natural products that won't clog up your pores. Such as:
Olive Oil
Coconut oil
Castor oil
5. A wide-toothed comb will ensure your weave doesn't tangle.
Tip : Respect the edges
I repeat, respect the edges.
A good hairstyle should never come at the price of a non-existent hairline.
Just like your scalp, it's important to keep your edges well maintained and conditioned. We've seen it one too many times; that hairline that's barely hanging on. When getting your weave sewn in, be sure to tell your stylist to leave your edges untouched.
Remember: Never sacrifice your edges just because you want your style to last longer.
6. Keep your edges intact.
Tip : Watch the clock
Don't make the mistake of keeping your weave in for too long without giving your natural hair a breather. You should only wear your weave for up to 4-6 weeks. Your hair needs to breath and being under a weave for longer than 6 weeks can cause serious damage. The less time that you keep your weave in, the more growth you will see in your natural hair. The more time it's left in, the more hair shedding you will see once your weave is removed.
Remember: We wear protective styles to grow and keep our natural hair, not lose it.
7. Don't exceed more than 6 weeks with a weave.
Wearing a weave doesn't mean your natural hair is "out of sight out of mind". And these tips can help you get the most out of your weave while giving your natural hair the TLC it deserves.
Visit our facebook page and tell us if these tips have helped you: Link
You can also check out our Instagram page for more on our trendy variety of weaves: Link