Image Courtesy: Styles Wardrobe
If you're looking to change your hair up, you'll love the twist braid style. These braids, also known as Senegalese braids, are the adventurous sister of the usual box braids. They're super versatile as you can wear them up or down. You can great creative with them or keep them simple. The choice is yours. Are you keen to try them but not sure of how to style them? We've got the inspiration you need to show off your individuality and unique style – but we've just added a twist.
Pile it up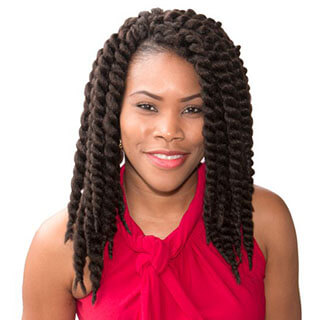 This style is simple yet classic. It's a great go-to hairstyle when you don't have much time for your hair. Just pull your hair into a ponytail and twist it around the centre. Tuck the ends of the hair in, secure with an elastic band (or bobby pins) and you're ready to slay.
Go half up, half down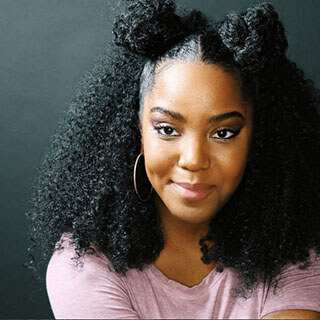 To spice up your look, why not try putting half your hair up into a bun and letting the rest hang loose? It's casual and fun and so easy to do. Just follow the steps above, pair it with your fave spring outfit and shades, and let your creativity flow.
Make a big top knot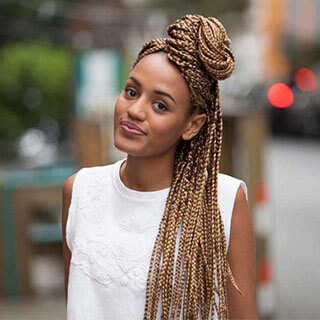 To make a bold statement you need to embrace big hair. With twist braids, this is easy to do. Separate your braids into a front and back section. The front section will make the bun, so choose how much hair you'll need depending on the size of the bun you'd like to make. Hold it in a high ponytail and part it into two sections.
Take the front section across on the front side. Take the other section on top of it, towards the other side. Neatly turn the rest of the hair around and secure with bobby pins. Keep the crisscross at the front as this is what really makes this look pop.
A fairytale hairstyle
If you're looking for a more playful look then this is the one to try. It's different and understated, yet still glamorous, which is perfect if you're attending a spring wedding.
Take a section of your hair in the front and braid it down the side. Join it with the rest of your hair and secure it with bobby pins. You can even add a few flowers to give it an even more feminine look.
Brave the undercut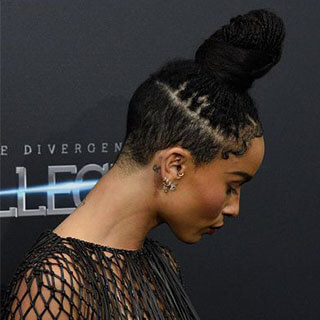 Last but not least on our list of must-try hairstyles is the undercut high ponytail. This edgy look is bound to turn heads. You can shave a pattern into your hair or you can even colour it. The options are endless, but the results are amazing. Tie your braids up into a high ponytail and let them fall forward to the side of your face. Then all you have to do is wait for the compliments.
With so many easy-to-do styles, twist braids should be next on your list. Try Darling's Senegalese braids and show us the styles you try. We'd love to see how they look on you.