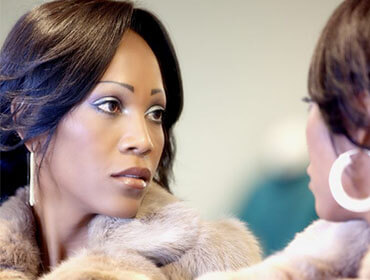 Have you ever thought of getting hair extensions? They can transform your look completely by making your hair look thicker, longer, layered or even a different style! There is such a variety available in the hair kingdom and choosing just the right ones can get quite perplexing.
It is important for your extensions to look extremely natural. Here are some tips to help you find the right hair extensions for Afro hair.
1. Human vs. Synthetic Hair
Hair extensions made from human hair are of better quality than synthetic hair. They last much longer and also seamlessly blend in with your natural hair.  The benefit of natural hair extensions is that just like natural hair, you can use heat styling products to curl, straighten or crimp, the way you like it. If you opt for synthetic hair, it is advised to steer clear of heat. Human hair extensions require the same amount of hair care your natural hair would require.
2. Hair Colour
One of the key points to evaluate before getting hair extensions is the colour of your hair. If the colour is even a bit off, it will be quite evident. They need to blend in with your natural hair flawlessly and the only way to do so is to match the colour of your hair and the extensions. If there is a slight difference, it can be covered up with highlights or lowlights.
3. Choose According To Your Natural Hair Type
Black women have a number of hair textures, right from kinky and coily to wavy hair. Luckily, there are a number of hair extensions such as Darling Super Star Hair Extension and Viva Curl Weave. If you decide on braiding them, ensure that you get the texture matched perfectly. If you have kinky hair, do not choose silky hair as ironing your natural hair will only lead to damage.
4. Lifestyle
It is important to choose hair extensions based on your lifestyle. Longer ones require more care. Before taking the leap, ensure you are capable of investing the time and money to maintain them. If you work out, the sweat can attract dirt and pollutants leading to grime and build-up in the scalp.
If you have children, you need to ensure that there is no pulling or tugging on the extensions as this would stress your natural hair and lead to breakage.
We hope this was helpful! You can check out the Best Way To Wash Your Extensions and style them as desired!
Follow us on Facebook and Instagram.
Image Courtesy: Rádio AETTER