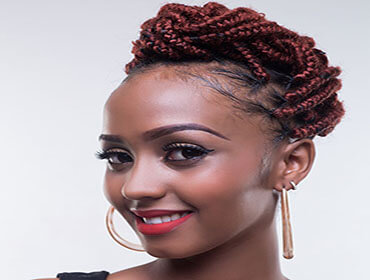 Crochet braids are the new cool! Not only it is a versatile protective hairstyle but also affordable and easy to create. Don't have time to watch long tutorial videos? Creating crochet braid hairstyles is now easy! Just have a look at this quick step-by-step process.
1. Cornrow your hair all the way till the back of your head. Insert the crochet hook under your cornrow and let it come out from the other side. Use your best judgement and keep the spacing between your hairs constant. You can add more hair where you want more volume and thickness.
2. Carefully add the Darling Hawana piece by piece with the help of a crochet needle. Make sure your hair is clean and fresh before installing any weaves or extensions to avoid scalp irritation
3. Pull the crochet pin and hair under the cornrow until a medium-sized hoop is formed. At this point, you should have a loop on one side of the cornrow and 'tails' on the other side.
4. Make sure you fold the tails over the cornrow and put them properly through the loop, but don't tighten it yet.
5. Twist the loop with your fingers and pull the tails through the loop again. Now you can pull tightly and secure your hair. This is how you will secure your first crochet 'stitching'. Once your first section is secured, keep repeating the process until your whole head is covered. Your crochet braids are good to go!
Crochet braids are a forever-growing trend. They are affordable, easy and fabulous, what's not to like! Now that you have aced this hairstyle, check out these Senegalese Twist Styling Tips You Were Waiting For.